'Life' Red Band Trailer: You've Doomed Us All, Jake Gyllenhaal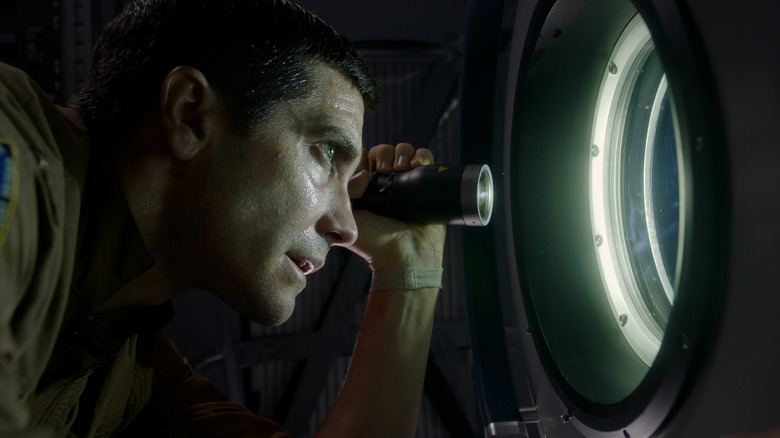 With Daniel Espinosa's science-fiction thriller, Life, only about a week away from hitting theaters, we're starting to see more than we maybe need to see from the movie. The previous trailers haven't revealed too much of the alien threat aboard the International Space Station, but a new red band trailer shows how much the life form grows throughout the movie, as it terrorizes Jake Gyllenhaal, Ryan Reynolds, and Rebecca Ferguson.
Below, watch the Life red band trailer along with some clips and a featurette from the movie.
The trio of exceptional actors are a part of a six-member crew who make the first contact with a life form from Mars. The alien, shockingly, isn't too keen on peace. The smart little monster grows bigger and stronger as it tears through the movie's cast like they're its lunch. Some of its likely victims are played by Olga Dihovichnaya, Ariyon Bakare, and Hiroyuki Sanada.
The new red band trailer is probably the best look at the film yet, even if it does seem to show too much. We'll see if that's the case next week, but there are a few shots in here you may want to wait to see first on the big screen. The repetition at the start of the trailer helps to set the mood for the terror to come:
Life Red Band Trailer
Here's a Life featurette about the crew and the nasty little entity onboard:
Still haven't seen enough from the new thriller from the director of Easy Money, Safe House, and Child 44? Then here's two more clips from Life, which screenwriting duo Rhett Reese and Paul Wernick (Deadpool) wrote:
The shot of the space capsule in the trailer and featurette implies somebody – or something – is making it back to earth. My money is on Ferguson or Gyllenhaal surviving this movie. Since making The Prince of Persia: Sands of Time, Gyllenhaal has had a habit of avoiding big-budget studio projects. The actor has shown great taste in material these last five or six years, going with projects like Nightcrawler, Prisoners, and Enemy. He typically doesn't play characters tasked with saving humanity, but I'm looking forward to seeing him play one in Life.
Here's the synopsis:
Life tells the story of the six-member crew of the International Space Station that is on the cutting edge of one of the most important discoveries in human history: the first evidence of extraterrestrial life on Mars. As the crew begins to conduct research, their methods end up having unintended consequences and the life form proves more intelligent than anyone ever expected.
Life opens in theaters March 24.