'Veep' Season 6 Trailer: One Of The Funniest Shows On Television Is Back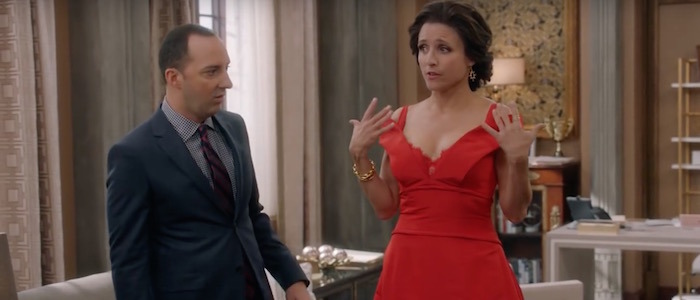 For the past five years, HBO's Veep has been one of the most consistently hilarious shows on television, a scathing portrait of American politics that blends inside baseball, old-school farcical storytelling, and some of the most creative profanity in television history into one very cynical single camera sitcom. The sixth season arrives at a time when real-life Washington D.C. looks even more ridiculous than Veep could have ever imagined, but at least the new trailer promises that the series will be as funny as ever.
As you surely remember (and this is a spoiler, but why are you reading a post about the new Veep trailer unless you're all caught up?), the fifth season concluded with Julia Louis-Dreyfus' President Selina Meyer losing her re-election bid and clearing out of the White House in shame. It felt very much like a series finale – we had watched the former veep rise to the highest highs before plummeting to her lowest lows. There was nowhere else to go, right?
Thankfully, the answer to that question is no, as Veep season 6 looks to tackle an area that few shows about politics have ever looked at: what, exactly does a former President of the United States do when they're no longer calling the shots for the free world? The short answer: pet projects and self promotion and, in the case of Selina Meyer, plenty of personal and professional humiliation.
While Selina and her team travel the world to celebrate pet causes, Anna Chlumsky's Amy Brookheimer runs a gubernatorial campaign and Timothy Simons continues to make a mockery of Congress. As it moves its lead character out of the Oval Office, Veep only looks to expand its lens, splitting the cast to provide a window into other corners of the American political system. And yeah, they will surely all be as thoroughly screwed as the Executive Branch.
Veep season 6 premieres Sunday, April 16, 2017 on HBO.