'Smurfs: The Lost Village' Trailer: Born To Be Blue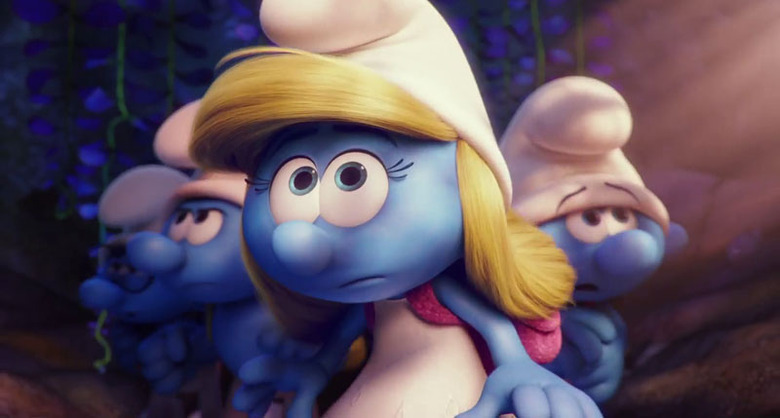 After two trips to the live-action world, the Smurfs are back and animated next month. Smurfs: The Last Village shows the adorable little blue humanoids adventure to – you guessed it – The Lost Village. Their latest journey continues to look more appealing the recent live-action films, which were successful overseas but they weren't the most enjoyable family-friendly movies.
Below, watch the new Smurfs: The Lost Village trailer.
With The Lost Village, director Kelly Asbury (Shrek 2) wanted to go back the Smurfs' original look in the Pierre Culliford's comics. While the recent movies accentuated particular Smurf features, especially their creepy eyes, the characters are now once again less defined. They're now more similar to the Smurfs found in the comics, which first came out in 1958.
In the film, a ragtag team of Smurfs – Smurfette (Demi Lovato), Hefty (Joe Manganiello), Clumsy (Jack McBrayer), Brainy (Danny Pudi), and Papa Smurf (Mandy Patinkin) – try to reach the Forbidden Forrest before Gargamel (Rainn Wilson) does. Leader SmurfWillow's (Julia Roberts) newly discovered village contains something the evil wizard wants. Smurfette's journey – it mostly looks like her story – also involves SmurfStorm (Michelle Rodriguez), SmurfBlossom (Ellie Kemper), and SmurfLily (Ariel Winter).
Smurfs: The Lost Village Trailer
The Lost Village was originally titled Get Smurfy. A nod to an Elmore Leonard story for an animated kids movie isn't a bad idea, but that title probably would've suggested a tone even broader than what we see in the Smurfs: The Lost Village footage, which contains a decent amount of slapstick and an OK butt joke. That butt joke, by the way, is delivered by none other than the star of Magic Mike, Magic Mike XXL, and the former bodyguard of Tyrese Gibson, Joe Manganiello. After his overlooked awards-worthy performance in XXL, I'm looking forward to seeing him infuse more life into future films, possibly including Smurfs: The Lost Village. He's also, of course, set to play Deathstroke in Matt Reeves' The Batman.
Here's the synopsis:
In this fully animated, all-new take on the Smurfs, a mysterious map sets Smurfette and her best friends Brainy, Clumsy and Hefty on an exciting and thrilling race through the Forbidden Forest filled with magical creatures to find a mysterious lost village before the evil wizard Gargamel does. Embarking on a rollercoaster journey full of action and danger, the Smurfs are on a course that leads to the discovery of the biggest secret in Smurf history!
Smurfs: The Lost Village opens in theaters April 7.