'The Girl With The Dragon Tattoo' Sequel Coming In 2018 Without Rooney Mara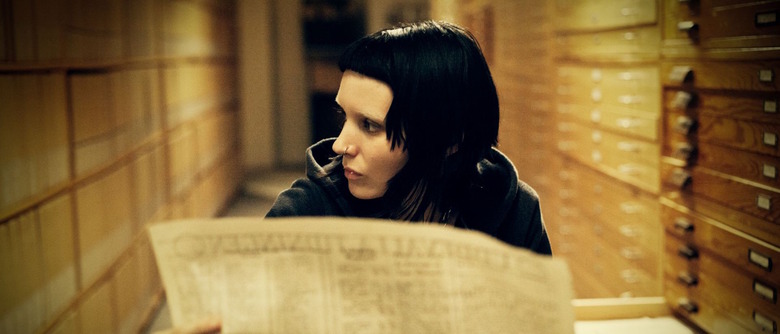 The stars of David Fincher's The Girl with the Dragon Tattoo, Rooney Mara and Daniel Craig, are not returning for the sequel. Sony is moving forward with director Fede Alvarez (Don't Breathe) and a new cast. Alvarez's adaptation of David Lagercran's The Girl in the Spider's Web opens in theaters October 5, 2018.
Below, learn more about The Girl with the Dragon Tattoo sequel/reboot.
Alvarez co-wrote the script with Jay Basu (Metal Gear Solid) and Steven Knight (Peaky Blinders). Published in 2014, Lagercran's The Girl in the Spider's Web is the fourth addition to Stieg Larsson's Millennium series. Sony spent a good deal of time and money on The Girl Who Played With Fire, but over a year ago, and almost four years after Finch's thriller came out, the studio decided to head in a new direction. The Girl in the Spider's Web will reintroduce audiences to the hacker Lisbeth Salander and journalist MikaelBomkvist, who again find themselves in the midst of a dark mystery.
In a statement, Alvarez said the search for a new Lisbeth is now on:
I'm hugely excited and grateful for this opportunity. Sony has become family to me and I can't think of a more thrilling project to celebrate our relationship. Lisbeth Salander is the kind of character any director dreams of bringing to life. We've got a great script and now comes the most fun part – finding our Lisbeth.
The announcement of the film's release date was shared at the London Book Fair, where a celebration was being had for the fifth Millenium book. Sony owns the rights to all future installments in the series. President of Columbia Pictures, Sanford Panitch, explained why Alvarez, a director who knows how to raise tension, and his talents are an ideal match for Lisbeth's story:
In all of contemporary literature, Lisbeth Salander is completely sui generis – probably one of the greatest female literary characters of all time in my view. Modern punk defiance personified, she is unforgettable in every incarnation, truly one of the most compelling characters we've seen in recent years. David Lagercrantz's brilliant work in continuing this remarkable series honors Stieg Larsson's masterpiece. We at Sony are so honored to be part of this series with Yellowbird, and we're so excited to be making an original film of The Girl in the Spider's Web. Fede Alvarez is the perfect choice to direct. Fede is an amazing director with a unique vision of the world. In particular, his talent and skill in creating psychological intensity will bring Lisbeth Salander back into popular movie culture with a roar.
Alvarez's film may not cost as much as The Girl with the Dragon Tatoo. While Fincher's film was budgeted at around $100 million, MGM wanted to cut costs with sequels after it underperformed at the box-office. This was four years ago, though, so perhaps the plan has changed, but another $100 million dollar movie with Lisbeth Salander doesn't sound likely. Before Sony decided to recast, every once in a while Fincher, who's executive producing Alvarez's film, would discuss The Girl Who Played with Fire. He believed Steven Zaillian's script, which Andrew Kevin Walker rewrote, had "huge potential."
The Girl in the Spider's Web opens in theaters October 5, 2018.