'Fargo' Season 3 TV Spots: All Hail The Parking Lot King Of Minnesota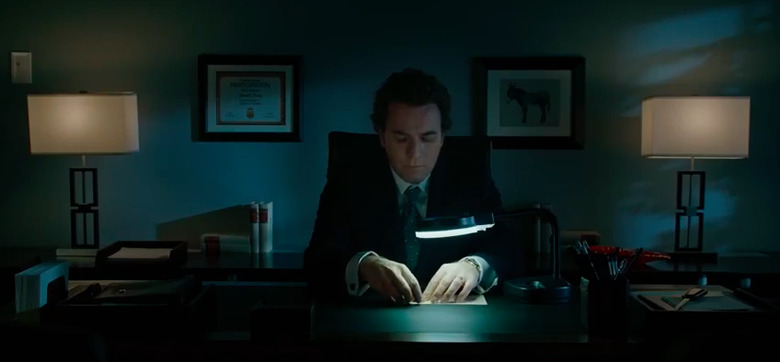 "Ray, why can't you be more like your brother, the parking lot king of Minnesota?" is probably a question Ray has heard time and time again. Ray, a balding man without much luck or success, blames his wealthy older brother for his failures. The rivalry between the two brothers will probably lead to some big laughs and tragic deaths when season three of Fargo premieres next month on FX.
Below, watch two new Fargo season 3 TV spots, featuring a first-look at Ewan McGregor as the almighty Parking Lot King.
Set in 2010 and four years after the events of Fargo season one, creator Noah Hawley's next Coen Brothers-inspired morality tale has two brothers who went completely different directions in life. Ray believes he got the short end of the stick, while Emmit prides himself as a good family man and all-around American success story. The wealthy and respected man gets a real kick out of the stamp he licks in this new Fargo promo:
McGregor's proud expression at the end of this promo is wonderful. We haven't seen the actor in too many comedies, but it's easy to recall plenty of scenes, especially when he played Edward Bloom in Big Fish, in which he's hilarious. We have high hopes for the T2 Trainspotting star in dual roles.
Another actor we're excited to hear speak Hawley's dialogue? Carrie Coon, who's playing the Chief of the local police department, Gloria Burgle, who can't wrap her head around why some people are more interested in staring at their phones than the world around them. Here she is again:
Appearances are often deceiving on Fargo. Burgle may walk away confused and defeated by an automatic door, but a little trouble with an automatic door doesn't automatically mean the Chief of Police isn't someone to be reckoned with. We'll see what sort of Fargo cop she is soon enough. We'll also soon see not one but two Carrie Coon performances on cable at the same time. Three days before the FX series returns, the final season of The Leftovers premieres. Sometimes life isn't so bad after all.
Here's the official synopsis for Fargo's new season, which co-stars Mary Elizabeth Winstead, David Thewlis, Jim Gaffigan, Michael Stuhlbarg, and more:
Set in 2010, the third installment of Fargo centers on Emmit and his slightly younger brother Ray Stussy (Ewan McGregor). Emmit, the Parking Lot King of Minnesota, sees himself as an American success story, whereas Ray is more of a cautionary tale. Forever living in his more successful brother's shadow, Ray is a balding and pot-bellied parole officer with a huge chip on his shoulder about the hand he's been dealt – and he blames his brother. Their sibling rivalry follows a twisted path that begins with petty theft but soon leads to murder, mobsters and cut-throat competitive bridge.
Carrie Coon stars as Gloria Burgle, the steady chief of the local police department. A newly divorced mother, Gloria is trying to understand the new world around her, where people connect more intimately with their phones than with the people around them. Mary Elizabeth Winstead stars as Ray's girlfriend, Nikki Swango, a crafty and alluring recent parolee with a passion for competitive bridge. David Thewlis stars as V.M. Vargas, a mysterious loner and true capitalist whose bosses plan to partner with Emmit, whether The Parking Lot King likes it or not.
Fargo returns April 19.