'DuckTales' Teaser: Donald Duck Is In The Center Of The Action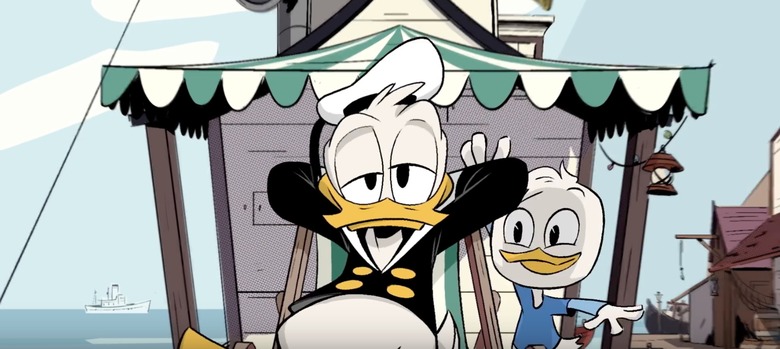 Earlier this month, Disney unveiled the first trailer for the DuckTales reboot featuring the voices of David Tennant (Scrooge), Danny Pudi, Ben Schwartz and Bobby Moynihan (Huey, Dewey & Louie), Beck Bennett (Launchpad McQuack), and Kate Micucci (Webby Vanderquack). While the new voices were a bit off-putting for a fan of the original series, I was actually blown away by the retro design style of this traditional 2D animated show.
Now Disney XD has released another short DuckTales teaser focusing on Donald Duck (voiced by Tony Anselmo in the new series) and it just looks fantastic. Watch the Ducktales teaser, entitled "Donald Duck's Tales," below!
Ducktales Trailer: "Donald Duck's Tales"
How beautiful are the character and world designs of this show? It really makes me wish that a big Hollywood studio like Disney would invest some money in a non-CG animated feature film again because that medium still has plenty of artful life in it yet. You can watch the longer first look Ducktales trailer here, if you want to see more. It looks like Donald Duck will serve a bigger role in this new series, as the character served only a minor role in the original show, with Scrooge and his nephews taking the spotlight.
Earlier this month it was revealed that Disney XD has already ordered a second season of ahead of its premiere, which is definitely a sign of confidence. In the meantime, the first season of the new DuckTales series will consist of 21 half-hour episodes and two hour-long specials. The show will premiere on Disney XD in this summer.
The new family comedy-adventure series will once again take viewers along as Scrooge McDuck, his curious and mischief-making grandnephews Huey, Dewey and Louie, the temperamental Donald Duck and their trusty team, Webby Vanderquack, Launchpad McQuack and Mrs. Beakley, embark on high-flying adventures around the world. Based on the Emmy Award-winning series treasured by a generation of viewers, the Disney Television Animation-produced series stars David Tennant as Scrooge McDuck; Danny Pudi, Ben Schwartz and Bobby Moynihan as the voices of Huey, Dewey and Louie, respectively; Kate Micucci as Webby Vanderquack; Beck Bennett as Launchpad McQuack and Toks Olagundoye as Mrs. Beakley. Annie Award-nominee Matt Youngberg ("Ben 10: Omniverse") serves as executive producer of "DuckTales," with Francisco Angones (Disney XD's Emmy Award-nominated "Wander Over Yonder") as story editor and co-producer, and Sean Jimenez (Disney XD's Annie Award-winning "Gravity Falls") as art director.