Watch Every 'Power Rangers' Episode Ever In A Massive 17-Day Marathon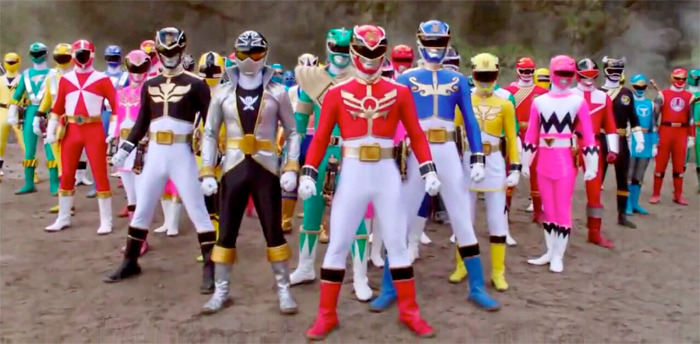 All the hype this week will belong to Beauty and the Beast, which is on track to be a box office giant. But after that, it will be time for the Power Rangers to show what they're made of for their first big screen adventure in 20 years.
Leading up to the release of Power Rangers, there will be a massive 10-day marathon of every single episode of every iteration of Power Rangers ever released. That's 831 episodes spanning 23 seasons, a lot of cheesy monster costumes, explosions and colorful suits. Find out when and where you can catch the Power Rangers marathon after the jump.
The streaming service Twitch (via io9) will be firing off every single episode of Power Rangers, from the original Mighty Morphin' Power Rangers all the way up through the most recent Power Rangers Dino Charge. Just in case you're not up to snuff on all the seasons, here's an entire list in chronological order of release:
Mighty Morphin Power Rangers
Mighty Morphin Alien Rangers
Power Rangers Lost Galaxy
Power Rangers Lightspeed Rescue
Power Rangers Ninja Storm
Power Rangers Dino Thunder
Power Rangers Mystic Force
Power Rangers Operation Overdrive
Power Rangers Jungle Fury
Power Rangers Dino Charge
Again, every single episode of all those seasons will be streaming on Twitch starting over at TwitchPresents on March 14 at 11am PT. It won't end until sometime on March 30. I can't imagine anyone has the time to sit through this whole marathon, and I'm sure various age groups have their favorite seasons, so fans will be turning in at different times.
It would be much better if every episode of every season of Power Rangers was available to watch OnDemand. That way I wouldn't be beholden to Twitch's schedule and could just watch the original seasons that I grew up on in the early 1990s. But alas, this will have to do until the new Power Rangers movie arrives in theaters on March 24.