'Baby Driver' Trailer: Edgar Wright Returns With A Thumping Soundtrack [UPDATED]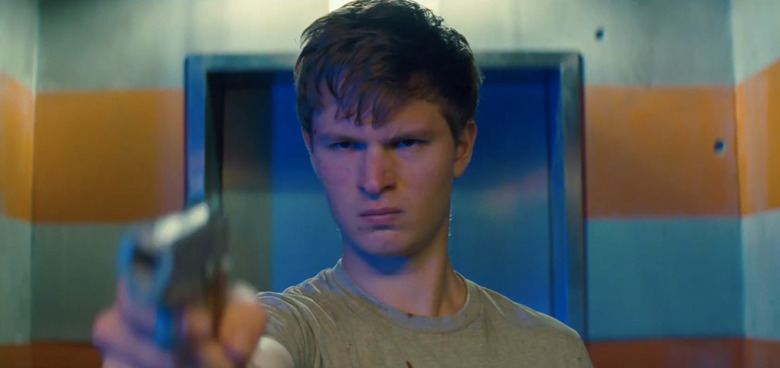 UPDATED: A much different international trailer for Baby Driver has been added. Our original post follows below.
This weekend brings the premiere of Baby Driver to the South by Southwest Film Festival. We'll have a full review from our own Jacob Hall who is down in Austin, Texas for the film's premiere (among other things), but until then, fans can satiate their appetite for a new film from the director of Shaun of the Dead and Scott Pilgrim vs the World with the trailer for this new film.
Baby Driver follows a young getaway driver named Baby (Ansel Elgort) who is nearly mute and suffers from a condition that leaves a constant ringing n his ears, so he relies on his own personal soundtrack to drown out the noise so he can do what he does best. Edgar Wright promised a movie that was powered by music, and the first trailer certainly gives us that.
Watch the Baby Driver trailer after the jump.
Here's the much different international trailer showing off more of Edgar Wright's flick:
This looks like exactly the movie that I was hoping for, and it's something that Edgar Wright's most loyal fans might not have expected from him. Baby Driver is much more action thriller than comedy. Though there are moments of levity, and certainly some laughs, especially from that Mike Myers mask confusion, this is not meant to be a super funny movie like Shaun of the Dead or Hot Fuzz. It's something much different for Edgar Wright, and that's something to be excited about.
The director previously said about the movie:
"I always wanted to do an action movie that was powered by music. It's something that's very much a part of my previous films and I thought of this idea of how to take that a stage further by having a character who listens to music the entire time. So, you have this young getaway driver who has to soundtrack his entire existence, particularly the bank robberies and fast getaways that come afterwards."
We only get just a taste of that soundtrack and getaway action, but it's just enough to get me super excited for August to get here immediately. This could be a huge breakout for Ansel Elgort to take on a wider variety of roles following his major role in The Fault in Stars. As for the rest of the cast, we get to see Jon Hamm in a role that is uncharacteristic of the roles he usually takes. There's also Jamie Foxx, Elsa Gonzalez, Lily James, Jon Bernthal and Kevin Spacey.
A talented, young getaway driver (Ansel Elgort) relies on the beat of his personal soundtrack to be the best in the game. But after being coerced into working for a crime boss (Kevin Spacey), he must face the music when a doomed heist threatens his life, love and freedom.
Baby Driver is premiering at SXSW on August 11.