Watch: 'Star Wars Rebels' Promo Teases Obi-Wan Kenobi's Epic Showdown With Darth Maul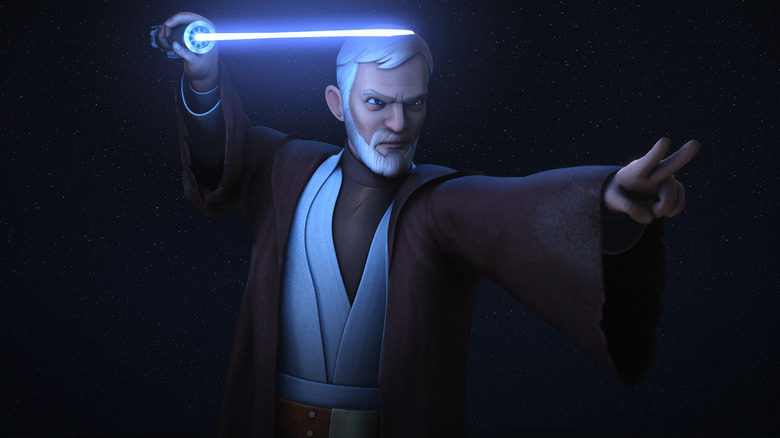 This week's episode of Star Wars Rebels centers on rebellion fighter Wedge Antilles, but next week's episode of the DisneyXD animated series will finally give fans a confrontation long in the making: Darth Maul has discovered that Obi-Wan Kenobi is hiding out on Tatooine and is coming to get his revenge for what happened at the end of Star Wars Episode I: The Phantom Menace. Disney has released a fifteen-second long video teasing this upcoming epic confrontation. Watch the Obi-Wan Kenobi vs. Darth Maul tease, embedded after the jump.
Earlier this season, Maul met up with Ezra Bridger to combine the Sith and Jedi holocrons to get the answers to their questions. Ezra wanted to know how to destroy the Sith, while Maul's intentions were not immediately revealed. He declared "I see him," while Ezra saw a vision of twin suns. Of course, we know Tatooine is a planet with twin suns, and as it turns out, the former Sith is on a mission to find his old enemy Obi-Wan Kenobi and finish this rivalry. The episode is actually titled "Twin Suns," and as we see in the promo above, Maul will come face to face with Obi-Wan Kenobi once again. Here is the official description from Disney:
The fates of Obi-Wan Kenobi and Darth Maul have long been intertwined. From their fateful duel in Star Wars: The Phantom Menace where Kenobi left Maul for dead, to their tragic reunion in Star Wars: The Clone Wars when Maul wreaked havoc across the galaxy before disappearing once again. In the upcoming episode of Star Wars Rebels, "Twin Suns," the dark warrior has managed to track down his old enemy to the desert wastes of Tatooine. Will their rivalry come to an end?
Disney has also released the following images from the upcoming episode:
Of course we know that Obi-Wan Kenobi survives this confrontation and helps Luke Skywalker on his path to become a Jedi and join the Rebellion. But we don't know Maul's ultimate fate. Will this episode end in his mortal death? Might Dave Filoni be playing with all of us — could something truly unexpected come out of this showdown?
Star Wars Rebels Season 3 episode "Twin Suns" airs on Saturday, March 18, 2017, at 8:30 pm.