'Preacher' Season 2 Reveals Premiere Date, Unleashes Hell In First Images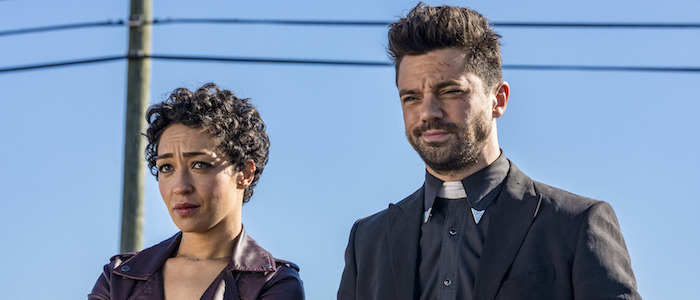 Yesterday, a trio of new actors joined the cast of Preacher and we took a stab at who they could be playing. Today, we learned when the second season of AMC's comic book adaptation will premiere. The date arrives alongside a batch of new images from the set, which seem to depict one of the comic's most famous sequences. You can take a look for yourself below.
Preacher season 2 will premiere on AMC on Monday, June 19, 2017. The shift to Mondays is an interesting one, as the series will no longer have to battle fellow geek favorite Game of Thrones for Sunday evening headlines. This new season will also run 13 episodes, three hours longer than the 10-episode first season.
Along with the premiere date, AMC released a batch of six images, showing off Dominic Cooper, newly minted Oscar nominee Ruth Negga, Joseph Gilgun, and series co-creator Seth Rogen on set. As you may recall, the season one finale found this eclectic bunch leaving Annville, Texas in the dust as they embarked on journey to literally find God, who had abandoned heaven. It sounds like the beginning of a joke: a super-powered preacher, a master criminal, and an Irish vampire go on a road trip...
The images also show off Graham McTavish's "The Cowboy" (known to comic readers as "The Saint of Killers"), who was introduced as a mysterious side character in the first season before eventually being unleashed from Hell and let loose in the real world. He's set to play a much larger role in season 2.
What Scene Are They Filming?
Although it's not clear what corner of the Preacher universe season 2 will focus on, the images above do suggest that one of the most memorable scenes from the comics will finally come to life on screen. Spoilers, albeit somewhat minor ones, follow.
Early in the Preacher comic series, the Saint of Killers (of the Cowboy, for you show people) catches up with Jesse, Tulip, and Cassidy, who have already been cornered by a small army of police officers. Unfortunately for those cops, they do not understand this this grizzled cowboy isn't some just guy in a costume, but a powerful supernatural entity who cannot be killed by conventional means. Things do not go well for anyone.
Since all of the right characters are present alongside a bunch of cops (not to mention thethataction shot featuring dirt being kicked up by unseen gunfire), it looks like we'll finally see the Saint/Cowboy do what he does best. It ain't pretty.