'Alien: Covenant': Apple Style Ad For Their Advanced Android Walter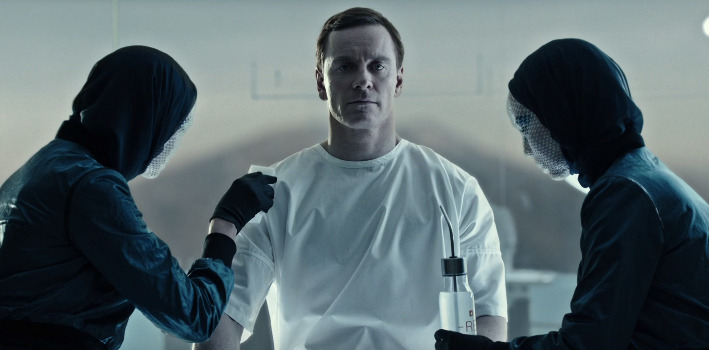 In addition to the terrifying Xenomorphs that kill off countless characters across the franchise, the Alien films are also known for introducing advanced android characters that can be nearly indistinguishable from humans. Alien: Covenant is no different as we'll be meeting Walter, the next generation of the android David from Prometheus.
To introduce audiences to the new advanced android, 20th Century Fox has released a viral ad for Walter (played by Michael Fassbender) in the style of an advertisement that you might see for the latest Apple product, complete with some familiar fonts. Ridley Scott's son Luke Scott (Morgan) directed the ad, and it's honest kind-of haunting.
Our own Jacob Hall visited the set of Alien: Covenant last year, where we learned a lot about the latest presumably doomed mission of the Weyland-Yutani corporation, including  details on Michael Fassbender's new android.
The android David resulted in some backlash (because he was totally creepy and weird), so Walter has been created without human emotions. This makes him a little more stilted than his previous version, unable to understand the concept of being friends with Kathertine Waterson's character Daniels. Fassbender himself described him as being somewhat similar to Spock, though even less personable since Walter is seen as a tool by the rest of the crew, with many of them taking no consideration of him being anything like a person.
If you want to know more about Walter, there's a whole viral site that has been set up as if Walter was a real product that you could buy. You can even reserve your own unit, and you'll get an e-mail that gives you a confirmation code, promising that Walter will be ready for delivery sometime in April. Unfortunately, it doesn't seem like Fox is going to send any swag for signing up, but they'll probably have some interactive site where you can create your own Walter.
Ridley Scott returns to the universe he created, with ALIEN: COVENANT, a new chapter in his groundbreaking ALIEN franchise.  The crew of the colony ship Covenant, bound for a remote planet on the far side of the galaxy, discovers what they think is an uncharted paradise, but is actually a dark, dangerous world.  When they uncover a threat beyond their imagination, they must attempt a harrowing escape.
Alien: Covenant arrives on May 19, 2017. Footage from the film is screening at SXSW, so we'll be back with a full report on that.
And if you're at SXSW, keep an eye out for this poster, which you might be able to get your hands on: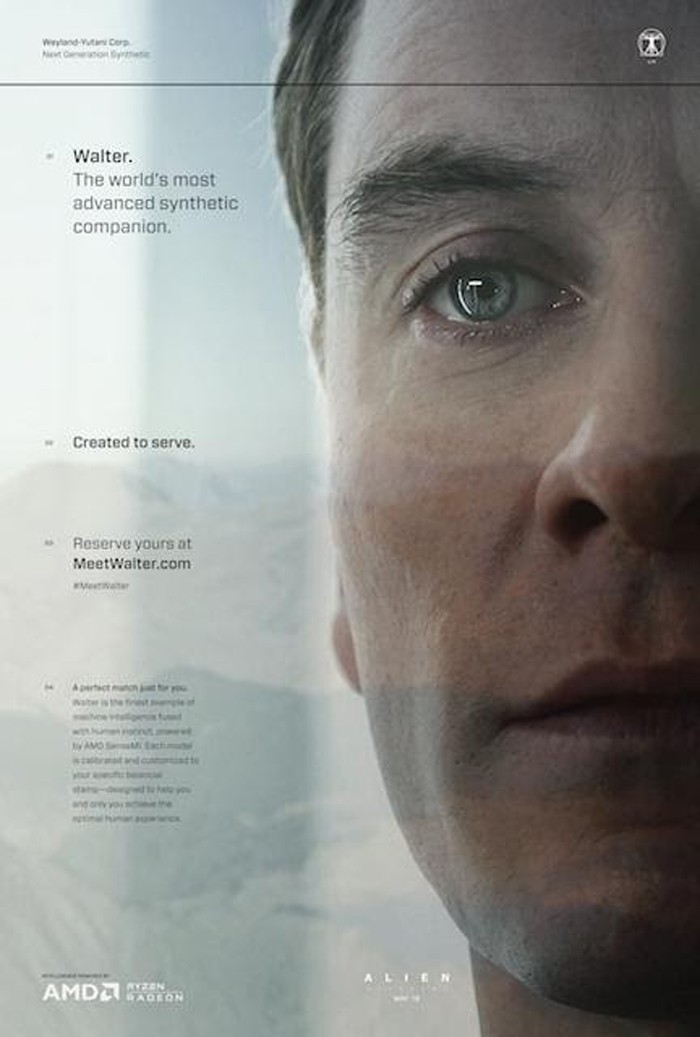 For those curious, here's the full press release about Walter:
LOS ANGELES, CA – March 10, 2017 – Twentieth Century Fox's (FOX) much anticipated, action-thriller, "Alien: Covenant," hitting theaters May 19th, marks visionary director Ridley Scott's return to the universe he created. Continuing to enthrall fans, FOX has tapped Advanced Micro Devices (AMD) to be the official CPU/GPU partner for "Alien: Covenant" and today will release its branded short, "Meet Walter" that stars Michael Fassbender as his character Walter. As the centerpiece of the #MeetWalter campaign, this short introduces Walter, the latest synthetic android with intelligence powered by AMD (NASDAQ: AMD), RyzenTM and RadeonTM processors, and manufactured by the film's fictional corporation Weyland-Yutani.
The short, conceived by Ridley Scott and 3AM, produced by RSA Films with technology partner AMD and directed by Luke Scott, showcases Walter as the world's most advanced synthetic companion, created to serve and designed to help achieve a better human experience with intelligence. As part of the campaign, a limited-edition poster debuts online and at SXSW, plus a Twitter activation allows users to tweet #MeetWalter to receive a personalized video autoreply from Walter.
"Partnering with AMD, one of the world's leading technology companies, for our film's 'Meet Walter' campaign aligned perfectly with our vision of the incredible potential of AI that Michael so wonderfully brings to life through Alien: Covenant's Walter," said Ridley Scott. "In AMD we have a partner at the forefront of developing and implementing artificially intelligent technologies, showcasing where the future of AI may well be heading. Bringing AMD into our longstanding collaboration with 20th Century Fox on the Alien films is inspiring and exciting."
"AMD is at the forefront of advancements in AI, machine learning and at developing technologies which are used every day," said Zachary Eller, Senior Vice-President, Marketing Partnerships. "Given their amelioration in these technologies, we knew this was the perfect partnership for our film."
"Once we saw the great connection between 'Alien: Covenant', the 'Meet Walter' short and AMD processor technologies, including AMD SenseMI technologies in our new Ryzen processors, and our Radeon Instinct accelerators, this technology collaboration with Twentieth Century Fox and Luke Scott was one we couldn't resist," said Jim Anderson, SVP & GM Computing & Graphics Business Group.
"Alien: Covenant" follows the crew of a colony ship bound for a remote planet on the far side of the galaxy that discovers what they think is an uncharted paradise, but is actually a dark, dangerous world. When they uncover a threat beyond their imagination, they must attempt a harrowing escape. The ensemble cast includes Michael Fassbender (The "X-Men" Franchise), Katherine Waterston ("Fantastic Beast and Where to Find Them"), Billy Crudup ("Almost Famous") and Danny McBride ("The Angry Birds Movie"). In addition to directing, Ridley Scott serves as producer along with Mark Huffman, Michael Schaefer, David Giler and Walter Hill.  The screenplay is by John Logan and Dante Harper from a story by Jack Paglen and Michael Green.