'Atomic Blonde' Trailer: Charlize Theron Is A Little Bit Of James Bond, A Little Bit Of John Wick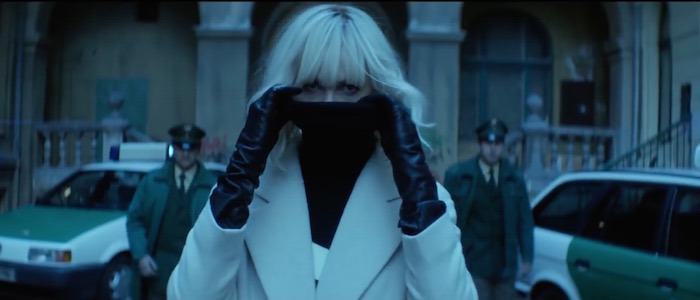 In Mad Max: Fury Road, Charlize Theron created one of the greatest action heroines of all time with Imperator Furiosa. So, no pressure on secret agent Lorraine Broughton, her character in the new Cold War spy thriller Atomic Blonde. However, if Theron is going to create another truly great cinematic badass, teaming up with one of the minds behind John Wick is a great start.
The first Atomic Blonde trailer has arrived ahead of its debut at the SXSW Film Festival this weekend and you can watch it below.
Based on Antony Johnston's graphic novel The Coldest Winter, Atomic Blonde drops Theron into the powder keg that is Berlin, Germany in 1989, on the eve of Berlin Wall's collapse. While the Cold War may be nearing its end, there are still plenty of bad guys to punch and plenty of bones to break and plenty of "impossible" missions to accomplish. James McAvoy plays a follow English agent who helps Theron on the ground. Toby Jones, Eddie Marsan, John Goodman, and Sofia Boutella round out the cast.
And this is a restricted "red band" trailer, so don't watch this one at work.
When we got our first look at Atomic Blonde earlier this week, where director David Leitch said all of the things that you'd expect the co-director of the first John Wick to say. Specifically, he noted how Theron's dance training made her ideal for long action shots and complex choreography, which is the exact kind of thing you want to hear in an age where most movie action is chopped to bits to hide the fact that no one on screen knows what they're doing. Theron's intense training regimen took its toll, as she told Entertainment Weekly:
Let's be honest, I got my ass handed to me every day. I cracked through two of my teeth in the back of my mouth from clenching so much that I had to have massive dental surgery right before we left for Budapest to shoot the film.
Atomic Blonde screens at SXSW in just a few days, but it doesn't open in theaters until July 28, 2017. Does that indicate a sign of confidence from the studio? We'll be at the premiere this weekend and will let you know.
The crown jewel of Her Majesty's Secret Intelligence Service, Agent Lorraine Broughton (Theron) is equal parts spycraft, sensuality and savagery, willing to deploy any of her skills to stay alive on her impossible mission. Sent alone into Berlin to deliver a priceless dossier out of the destabilized city, she partners with embedded station chief David Percival (James McAvoy) to navigate her way through the deadliest game of spies.