Danny DeVito And Tim Burton Might Join Forces Again For 'Dumbo'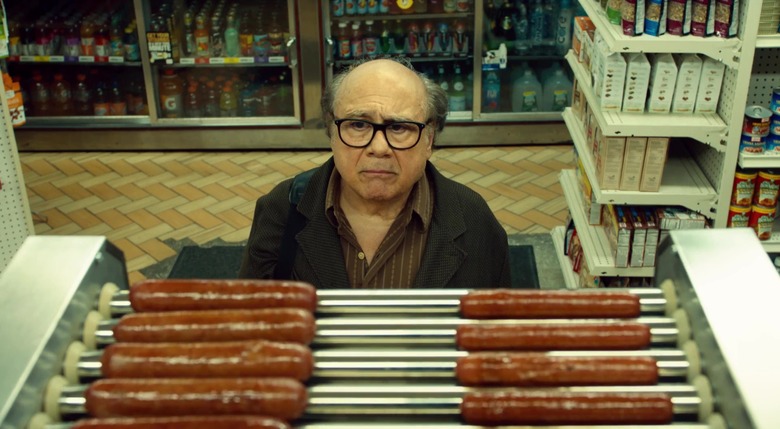 Tim Burton may reunite with his Batman Returns star, Danny DeVito, for Disney's live-action Dumbo. DeVito is currently in negotiations to join the film, and Burton regular Eva Green (Penny Dreadful) is close to signing up as well. The It's Always Sunny in Philadelphia star might play Medici, the owner of a small circus.
Below, learn more about the potential Danny DeVito Dumbo role.
Deadline reports DeVito is trying to work the film into his schedule. Right now, he has some commitments to a Broadway show, but Deadline's source told them a deal is almost complete. If negotiations continue to go according to plan, then DeVito will play a character whose circus is taken over by the film's villain, Vandemere. About two months ago, Tom Hanks was circling the role of Vandemere, but we've yet to hear if he passed the film, like Will Smith and Chris Pine already have.
It's been 14 years since Burton and DeVito last worked together. In their second collaboration, Big Fish, the actor played a werewolf/ringmaster and he was perfect for the role. DeVito is an actor who can convincingly play a charismatic showman, so he's likely a good fit for a circus owner in Dumbo. He's brought made some real magic for Burton in the past, so maybe he could do it again for Dumbo.
While DeVito's performance in Big Fish is delightful, his work as the Penguin in Batman Returns is flat-out masterful. He's equally hilarious, monstrous, and tragic in that movie (and he remained in-character between takes). His performance as the Penguin is one of the most heartfelt and richest performances in a Burton film, so it's pleasing to learn the two may soon collaborate again.
Eva Green's role is tied to Vandemere. She'll play a French trapeze artist – How delightful does that casting sound? – employed by Vandemere. There's no info on whether her character, Colette, is a villain like her boss or how she connects to the film's main characters, a father and his kids who form a special bond with Dumbo, the adorable and kind-hearted elephant who can fly. Pine was recently up for the role of the father, but the deal fell through.
Burton, screenwriter Ehren Kruger (the Transformers sequels), and producer Justin Springer's (TRON: Legacy) live-action take on Dumbo will "add a unique family story that parallels Dumbo's journey" and "expands and deepens the circus aspect of the story." Considering the 1941 film is only a little over an hour long, there's plenty of elements they'll need to deepen and expand to tell a two-hour story about the famous elephant. Apparently, Burton and all involved are "barreling towards a production start," but the exact date is unknown.