Watch A Tour Of 'Avatar' Land: This Is What The End Of The Avatar Sequels Looks Like?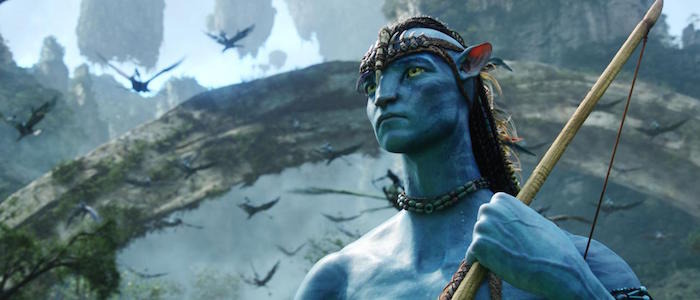 Universal Studio's Wizarding World of Harry Potter didn't just transport you to J.K. Rowling's fantasy world – it transported you to a specific point in the Harry Potter canon, with the events of the attractions taking place at a specific point in the series. Not to be outdone, Walt Disney World's Pandora: The World of Avatar isn't just an extension of James Cameron's film (and soon to be film series). The entire experience is a sequel in its own right, sliding right into the series' timeline.
This revelation arrived as Disney started opening the gates to the new theme park land (located in their Animal Kingdom theme park) to a few media outlets. This resulted in a bunch of new footage from the themed area, including a look at the new rides, arriving online.
Is This Pretty Much Avatar 6?
One of the most intriguing aspects of this new theme park land is that it's not a generic Avatar location – it's intended to represent a specific area from the world seen in the film. Guests will be spending time in the Valley of Mo'ara, which has its own welcome sign, complete with greetings and instructions in both human and alien languages.
More specifically, you'll be visiting Pandora at a specific time. James Cameron says that the setting of the land is "a generation" after the events of the first movie, after the wars between the humans and the Na'vi population have ended and both sides have learned to get along. The locals have opened their doors to human visitors, inviting them to come experience the wonders of nature and so on and so forth. The area will also contain references and Easter eggs to events that haven't happened yet and will be first glimpsed in the sequels.
In other words, Pandora: The World of Avatar is a big spoiler of sorts. When all five of Cameron's movies are over, everyone learns to get along and people come from far and wide to stand in long lines to ride space dragons and drink (presumably overpriced but surely delicious) cocktails.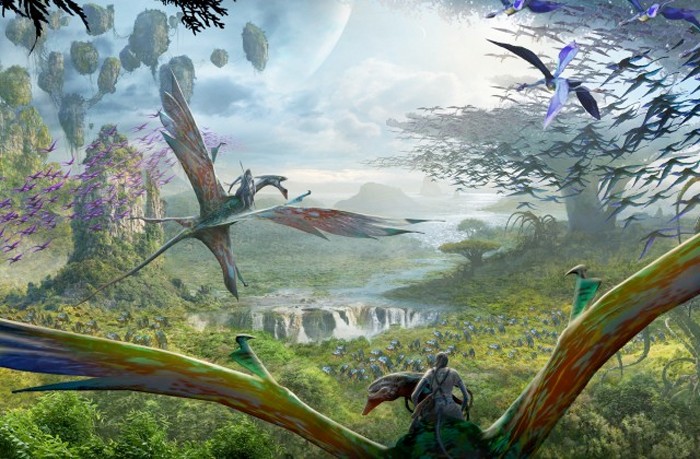 A Walking Tour
To get the whole picture, you'll have to watch two videos. First up is this presentation from Good Morning America, where Avatar producer Jon Landau offers a tour of the land before previewing the Flight of Passage attraction, a 3D simulator that puts you on the back of a flying banshee.
WATCH: INSIDE LOOK: @VisitPandora the world of Avatar only at @WaltDisneyWorld! #VisitPandora @DisneyParks @OfficialAvatar pic.twitter.com/uFqamUfuLa

— Good Morning America (@GMA) March 9, 2017
Both videos show exactly what you'd expect: an immaculately designed and colorful area where clearly no expense has been spared. Those floating mountains, already impressive in construction photos, look even better close-up. The bioluminescent flora and fauna, which gives you a reason to stick around the park after dark, look stunning. What we see of the rides themselves is also promising.
Whether you're a fan of Avatar or not, Pandora looks like an immersive, expertly crafted experience and I'm very curious how it goes over with Disney regulars and moviegoers alike. It'll open to guests on May 27, 2017.