LOL: Samuel L. Jackson Tries To Recreate His Most Iconic Roles In 11 Minutes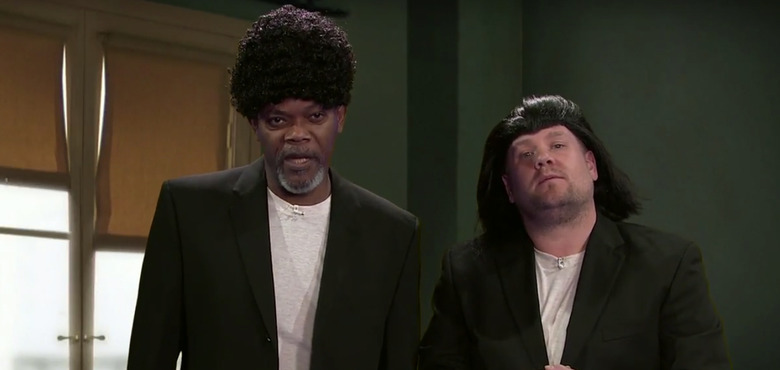 While James Corden's most viral contribution to late night television is undoubtedly Carpool Karaoke, which will be getting its very own series soon on Apple Music, he's also known for having some fun recreating the movies of some of the biggest stars in Hollywood.
The Late Late Show has seen James Corden team up with the likes of Tom Hanks, Matt Damon, Tom Cruise and Arnold Schwarzenegger to deliver cheap and quick recreations of their most iconic roles. But no actor who has taken on the role call challenge has had quite as expansive a body of work as Samuel L. Jackson. Even in 11 minutes, they don't even come close to recreation all of Samuel L. Jackson's movies, but they did remember to include his bit part in GoodFellas, so that's gotta be worth something.
Watch James Corden attempt to recreate a plethora of Samuel L Jackson movies in 11 minutes.
James Corden gets to have the most fun as he jumps into a wide variety of roles played by an eclectic array of talent opposite Samuel L. Jackson, but the Star Wars prequel co-star is having a good time revisiting these roles. The way they fit in all of the Marvel Cinematic Universe movies is kind of cheap, but it's all about speed, so I guess we'll forgive them.
You can see Samuel L. Jackson this weekend taking on the king of the apes known as King Kong. Jackson's military character in Kong: Skull Island has some beef with the monster who traps him and his surviving unit on the mysterious island full of monsters, and he definitely goes a little off the rails before all is said and done.