'The Fate Of The Furious' Trailer: This Is One Explosive Family Reunion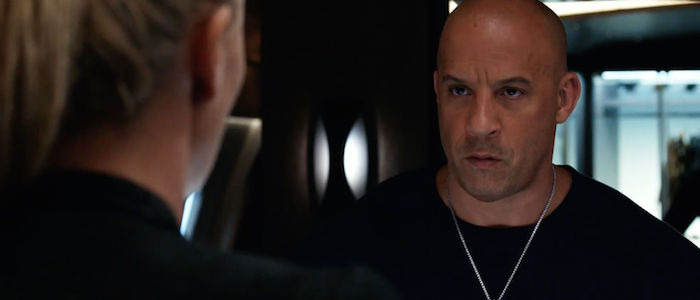 Watching the Fast and Furious series evolve from telling bland and lunkheaded street racing stories to telling insane and endlessly creative (but still lunkheaded) action adventure tales that might as well take place in an alternate universe where physics simply don't exist has been a joy. These movies offer something for everyone: a diverse and charismatic cast of amusing personalities, outrageous storytelling torn straight from a daytime soap opera, ludicrous action, and, above all, a sincere heart that really means it when the action stop so everyone can drone on about the importance of family.
As the previous trailers have shown us, The Fate of the Furious, the eighth film in the series, will shift into reverse and back right over our precious feelings. Dom has betrayed his crew! His surrogate family! Does the newest trailer offer a hint of why he would do such a thing? Well, let's watch it and find out.
After the reality-shredding Furious 7, just about everyone joked that the next film in the series would have to send Vin Diesel's Dom and the rest of the crew into space to top it. While The Fate of the Furious doesn't seem to go that far, it does feature a major car chase involving a submarine, so we're taking baby steps. We'll get there eventually.
Plus, no event in the cosmos can be quite as unsettling as Dom turning his back on family! How did we come to this? I think I need to lie down.
A terrorist plot to control all cars? The Rock aiming a rogue torpedo with his bare hands? Oh, my.
As always, Diesel is surrounded by a large cast of supporting players, including returning characters played by Dwayne Johnson, Michelle Rodriguez, Tyrese Gibson, Chris Bridges, Jason Statham, Nathalie Emmanuel, and Kurt Russell. New to the party this time around are Charlize Theron and Helen Mirren.
The Fate of the Furious will speed into theaters in a little more than a month, arriving on April 14, 2017. Here's the official synopsis:
Now that Dom and Letty are on their honeymoon and Brian and Mia have retired from the game—and the rest of the crew has been exonerated—the globetrotting team has found a semblance of a normal life. But when a mysterious woman (Charlize Theron) seduces Dom into the world of crime he can't seem to escape and a betrayal of those closest to him, they will face trials that will test them as never before.
From the shores of Cuba and the streets of New York City to the icy plains off the arctic Barents Sea, our elite force will crisscross the globe to stop an anarchist from unleashing chaos on the world's stage...and to bring home the man who made them a family.