'Moonlight' Star Janelle Monáe Is NOT The Frontrunner To Play Domino In 'Deadpool 2' [Updated]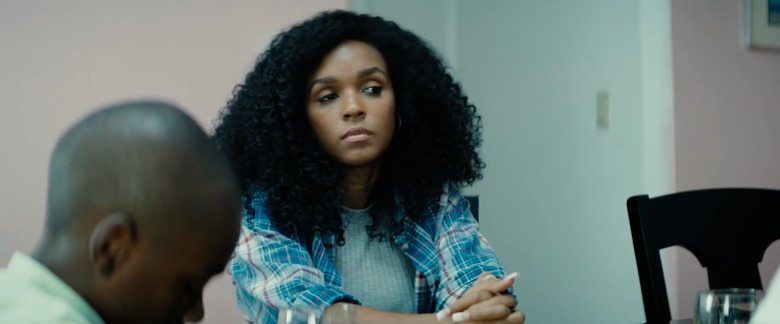 UPDATE: Well, that was fast. Deadpool and Deadpool 2 writer and executive producer Rhett Reese says there is no truth to this one:
Move on. Nothing to see here. The original rumor follows below.
Conversations and rumors surrounding who might play Domino in Deadpool 2 have been going on for months now. A new name in the mix for director David Leitch's (John Wick) sequel? Singer-songwriter Janelle Monáe, who starred in last year's Moonlight and Hidden Figures, is now rumored as the frontrunner for the role.
Below, learn more about the Deadpool 2 Domino role.
One of That Hashtag Show's sources (so take that with a grain of salt) told them 20th Century Fox are interested in Monáe playing Domino. The show's hosts claim Kerry Washington (Scandal), the former frontrunner, is no longer up for the role. There's no word if Monáe has followed in the footsteps of Cable frontrunner David Harbour and actually screen tested for a part in the film.
Domino/Neena Thurman is a mutant mercenary and a member of X-Force, a mutant superhero crew that often boasts Ryan Reynolds' Deadpool as a member (a movie starring the team is in the works). Created by Rob Liefeld, Domino's abilities include subconscious telekinetic probability manipulation, making her an incredible marksman and fighter who can control anything in in her sight, such as bullets. Her power only kicks in when she's active, though. If she doesn't move when there's action, then she could get a few scars. She's powerful, but not invulnerable.
Monáe joins a list of many talented actresses in the running – or who were once in contention – for the Deadpool 2 role. Mary Elizabeth Winstead (10 Cloverfield Lane), Sienna Miller (High-Rise), Lizzy Caplan (Masters of Sex), Sofia Boutella (Star Trek Beyond), Stephanie Sigman (Spectre), and Sylvia Hoeks (Blade Runner 2049) were all reportedly considered for Domino. Kelly Rohrbach (Baywatch), Ruby Rose (Orange Is the New Black), and Mackenzie Davis' (Halt and Catch Fire) names were also in the mix.
The Hashtag Show recently also got their hands on a character breakdown for Domino. The studio is looking for an actress to play a "no-nonsense badass who rarely shows her feelings." The character is described as "highly capable, supremely confident" with "bullet-proof sarcasm," but she's also vulnerable and it's "hard for her to let down her guard." Those sound like traits Monáe could pull off as Domino in Deadpool 2, even though we've only seen her act in two movies. She exhibits plenty of range in those two dramas, expressing confidence, warmth, and a sense of humor. The actress, who also has great style and dresses like she should be President of the Galaxy at award shows, is a promising actress and it's easy to imagine Deadpool 2 being all the better with her in the role.