'Atomic Blonde' First Look: Charlize Theron Goes Full 'John Wick' In Cold War-Era Berlin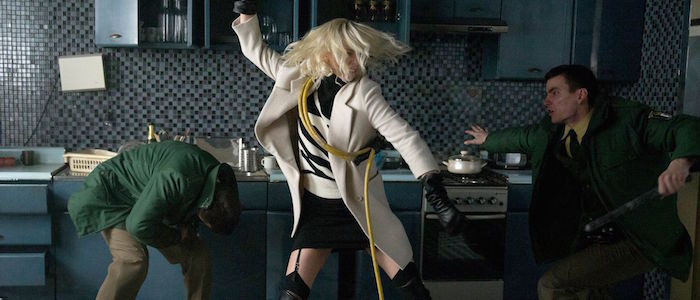 I remember being a little bummed out that David Leitch and Chad Stahelski parted ways after co-directing John Wick, with the latter going on to tackle the incredible sequel on his own. However, Leitch is doing quite well for himself. He'll be calling the shots on Deadpool 2 (he directed that teaser trailer that played before Logan), but before that, he's delivering a thriller starring Charlize Theron as a British spy kicking ass during the Cold War.
Atomic Blonde will premiere at the SXSW Film Festival this weekend and the first trailer is set to arrive this Friday. But for now, we'll make do with a new batch of photos and two new trailer teases, which feature Theron James Bond-ing (or is that John Wick-ing?) her way across Berlin on the eve of the Soviet Union's collapse.
Written by Kurt Johnstad (who previously adapted 300 for Zack Snyder), Atomic Blonde is based on Antony Johnston's graphic novel, The Coldest City. The film adaptation finds Theron playing Lorraine Broughton, an English secret agent tasked with an "impossible mission" in a city that can best be described as a political powder key. James McAvoy plays David Percival, the local station chief who assists her on this mission.
Entertainment Weekly revealed the first images from the film and they seem to show off the two sides of Theron's super-spy: the half that can slip undercover into any kind of social engagement and the half that can beat the tar out of everyone attending that social engagement. The third shows off McAvoy and Theron taking a stroll along the Berlin Wall, circa 1989.
John Wick fans will be pleased to note that Leitch told EW all about Theron's commitment to practical stunts, citing long action takes and Theron's ballet-hardened toughness. "It's refreshing to find an actor who can do these long, long takes, memorize the choreography, maintain the character, and deliver a performance," he says. It should be noted that Theron also spearheaded this entire production, buying the rights to The Coldest City with her producing partner, Beth Kono, five years ago.
And that brings us to the two trailer teases, which offer a few tantalizing looks at Theron just decimating some people.
Theron is already in the action movie pantheon with Furiosa from Mad Max: Fury Road. Can she do it again with Lorraine Broughton and Atomic Blonde? We'll find out when the film premieres this Sunday. It will actually hit theaters on July 28, 2017.
The crown jewel of Her Majesty's Secret Intelligence Service, Agent Lorraine Broughton (Theron) is equal parts spycraft, sensuality and savagery, willing to deploy any of her skills to stay alive on her impossible mission. Sent alone into Berlin to deliver a priceless dossier out of the destabilized city, she partners with embedded station chief David Percival (James McAvoy) to navigate her way through the deadliest game of spies.