'Iron Fist' Early Buzz: Is This Netflix's First Disappointing Marvel TV Series?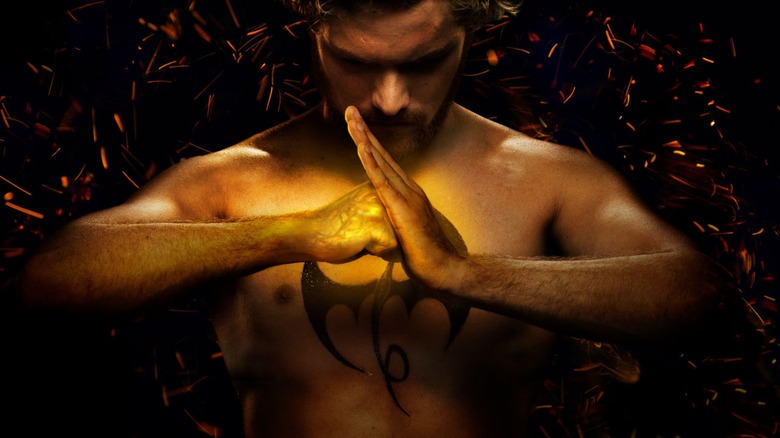 Marvel has been on a roll with their Netflix television shows. Even while I haven't loved the whole run, The Defenders lead-up seasons have been objectively good thus far. Iron Fist enters the fray on March 17th, 2017 and the first reviews have shown up online.
Is it possible that Iron Fist is Netflix's first disappointing Marvel tv series? The first Iron Fist reviews are overwhelmingly negative. So what is wrong with Marvel's latest tv hero? Find out in the Iron Fist Early Buzz!
A lot of the reviews point out that the lead character Danny Rand is dumb, and that the show has a slow relaxed pace that will likely be outputting to fans of Daredevil and the previous Marvel Netflix shows. The show is much more talk-focused than the previous series, and the action is said to be short and bland.
The word "boring" was used by more of these reviews than not, and I think that says something about what we should expect from this show. Unfortunately, Iron Fist is a necessary piece of the puzzle leading up to Netflix's Avengers-style Marvel team-up series, so most fans might feel obligated to slug their way through this slog so that they aren't missing any details when The Defenders is released. Let's take a look at some excerpts from the first Iron Fist reviews:
ScreenCrush: "As a lead-in to The Defenders, the hope was that Iron Fist could lean into its more mystical elements, but the end result feels much closer to a spaced-out retelling of Batman Begins, minus the fact that Jones' Danny Rand lacks any of the self-awareness or purpose of Bruce Wayne, and, frankly, comes across as a petulant brat most of the time. Without Alfred to ground him, and no urgent mission to focus the early episodes, we wind up with three shows worth of Danny wandering into people's personal space, presumptuously expecting their embrace, and attempting to reclaim a corporate majority shareholder position that – by his own admission! – he has no idea what to do with. Danny Rand is Marvel's Dumb, Idiot Man-Child Batman."
Collider: "Despite a very good cast and a great origin story, Iron Fist is predictable, a little hammy, and has no real sense of how to tell a cohesive story. As such, it has a few moments that are great and many that are not. The show takes a few of its early episodes to consider whether or not the protagonist might be crazy, or if he really does have powers and is who he says."
The Hollywood Reporter: "The partnership between Marvel and Netflix was due for a dud. This isn't to say that Daredevil, Jessica Jones and Luke Cage have been shows without flaws... Each show, though, has had virtues of tone and aspiration that made it feel like a complicated superhero TV code had been cracked. [Iron Fist] feels like a step backward on every level, a major disappointment that already suffers from storytelling issues through the first six episodes made available to critics and would probably be mercifully skippable in its entirety if it weren't the bridge into the long awaited Defenders crossover series."
Uproxx: "The fact that both Danny (Finn Jones) and Colleen (Jessica Henwick) aren't good at talking should be no sin for the genre. The problem is that Iron Fist is virtually all talk — most of it painfully dull — and the fighting is both brief and unconvincing. It's easily the worst of the Netflix Marvel shows — where the others tend to start off well and then run into massive pacing problems around episode 8 or 9, Iron Fist begins as if it's already at that sag point — and an unfortunate illustration of the perils of miscasting."
Variety: "Quite a few dramas in the streaming arena have pacing problems, and even Netflix's better Marvel programs have displayed an affinity for contrived, time-killing subplots. But "Iron Fist" is the most frustrating and ferociously boring example of Netflix Drift in some time. Not one element of this plodding piece works. The action scenes lack spark, snap, and originality. None of the flat, by-the-numbers characters makes any lasting impression. And as origin stories go, the tale of Danny Rand (Finn Jones), at least as rendered by this creative team, is about as exciting as a slice of Velveeta cheese left out in the sun too long."
Comic Book Movie: "Iron Fist is not a series afraid to take it slow. Danny Rand doesn't unleash the power the show shares a name with until the end of the second episode, and even then, it's only used sporadically throughout the course of the first six instalments. This relaxed pace is likely to be a turn-off for some craving non-stop action" ... "That's not to say Iron Fist is boring, however."
The Verge: "The sad truth, however, is that Iron Fist is the weakest of Marvel's Netflix series to date. As far as diversity, representation, and appropriation go, the series fails in a number of ways. But, over the course of its first six episodes, it also manages to fall short on basic levels like storytelling. Its creative laziness bankrupts the entire show. Marvel's new series is a disappointing case study in studios needing to try harder to tell difficult stories well."
IGN: "...high-rise approach does set Iron Fist apart from the other, grittier and more urban Marvel-Netflix series, [but] it also lends the show a sterile look and feel. Again, it's all very prime time soap opera-ish. The latter of these first six episodes eventually brings in more comic book-y and fun elements, but Iron Fist is thus far the weakest of the Marvel-Netflix series."
Den of Geek: "But there's something missing from Iron Fist. Visually, it's a little bland for many of these early episodes, often lacking the cinematic pop that made Daredevil or Luke Cage such visual standouts."
CutPrintFilm: "The show is maddeningly flat, to the point that you find yourself wondering why you're even watching it. One wishes Marvel had just approached Danny Rand the same way they approach Hawkeye in the MCU films: instead of giving him his own property to carry, why not just have him show up, assumed to already be a member of the team?"
Polygon: I fully expected Iron Fist to be a decent adaptation ultimately hobbled by an unwillingness to stray too far from its dated source material... And let me be clear: Iron Fist's problems with its portrayal of Asian cultures and Asian-Americans are embedded throughout every episode. It's just that its problems with delivering exposition, crafting consistent characters, and even basic dialogue writing run right alongside.