Eva Green To Star In Tim Burton's 'Dumbo'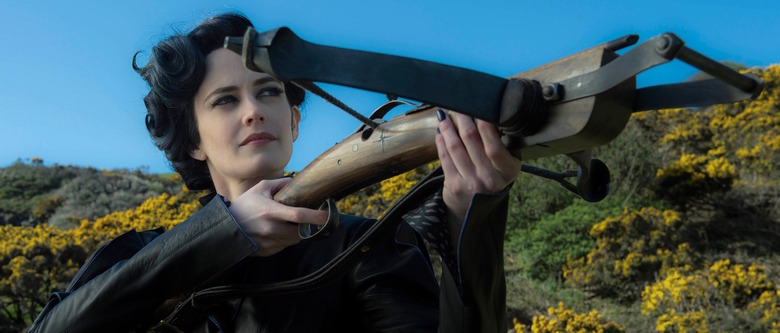 Will Smith recently passed on Dumbo. Tim Burton's film, which keeps moving closer to production, still doesn't have any actors attached. While we wait to learn whether Tom Hanks will play the live-action remake's villain, it's being reported that Eva Green (Penny Dreadful) is now in talks for one of the lead roles.
Below, learn more about the Eva Green Dumbo casting.
Deadline writes that Green may star in Burton's reimagining of the 1941 Disney classic. There are three main adult roles in the film, and one of them, the lead female role, might go to Green. The actress is becoming popular in the world of Tim Burton. She brought some much-needed life to Dark Shadows, and last year she played the lovely Miss Peregrine in Burton's playful, dark, and sweet, albeit uneven, adaptation of Miss Peregrine's Home for Peculiar Children.
Burton and Disney are still on the lookout for an actor to play the role of the father. There aren't many known plot details for Burton's Dumbo, which is a mix of CG and live-action, but the story will follow a father whose children develop a close bond with the adorable elephant. Most recently, Chris Pine (Star Trek Beyond) was in the running for the starring role. A deal for him to star fell through, though.
We've heard before that the film "will add a unique family story that parallels Dumbo's journey" and "expands and deepen the circus aspect of the story," but we also still don't know anything about the villain Hanks is considering playing. Screenwriter Ehren Kruger is clearly inventing quite a few roles to bring the story of Dumbo to live-action. Kruger, who wrote The Ring remake and worked on the Transformers sequels, is producing the film alongside Justin Springer (Tron: Legacy).
Last year we saw the last of Green on Penny Dreadful, a beautiful and exciting drama that came to an abrupt close. She did some remarkable work on John Logan's series, making Vanessa Ives the heart of that show's family. Weirdly, Green's performance — which was often heartbreaking, vulnerable, and even terrifying — was only nominated once at the Golden Globes. Years before her time on the Showtime series, she gave exceptional performances in Casino Royale, Perfect Sense, The Salvation, Dreamers, and the Director's Cut of Kingdom of Heaven. We'll see Green next in Roman Polanski's Based on a True Story and Lisa Langseth's Euphoria.