'The Night Manager' Season 2 In The Works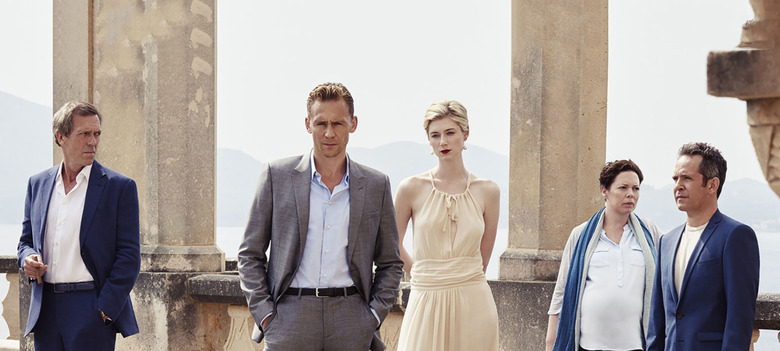 The BBC possibly isn't finished with John le Carre's The Night Manager. Director Susanne Bier turned le Carre's thriller into a riveting six-part miniseries, which American audiences saw on AMC, but she may return to the world of arms dealing with the second season of the hit drama. Bier confirmed scripts are being written for a follow-up season right now.
Bier told Screen Daily that a team of writers are in the midst of writing season two. The filmmaker didn't reveal much about the second season, but added there's no reason to make it if it doesn't live up to the bar raised by season one:
We all very much want to do a season two, but the thing we absolutely do not want is to do something that does not live up to the level of season one. That would be a really bad idea.
The screenwriter behind Hanna, David Farr, wrote all six episodes of The Night Manager. Shortly after the success of the miniseries, there was already pressure for a season two, but he told Variety the story was over for him:
There is lots of pressure but I'm not keen. Personally, I liked the fact that the story ended where the story ended. But that's entirely personal. Given the characters, there is a potential for something more to happen, and I'm sure someone could find the right idea. But for me it's done. My simple feeling is that I wouldn't be able to make the next one as good. But I would love to work with Le Carré again and we are talking about future projects
[Begin spoilers for The Night Manager] Bier doesn't mention if the surviving characters played by Tom Hiddleston, Hugh Laurie, Olivia Colman, and Elizabeth Debicki would return for this potential seconds season. Hiddleston, of course, played the title character, a hotel employee and former British soldier recruited to unmask a wealthy businessman as an arms dealer. [End spoilers for The Night Manager]The Night Manager doesn't call out for a second season, as the original miniseries has a definitive, satisfying ending. The finale doesn't leave viewers clamoring for more. Maybe, as Farr said, there's more story to tell though. If Bier, the BBC, and the writers come up with a story worth telling, one they believe in, then why not return this high-stakes world with of Hiddleston's Jonathan Pine? Hiddleston isn't opposed to returning to the role, but he told EW season two of The Night Manager depends on le Carré and where he wants to see his characters go.