'Bosch' Season 3 Trailer: The Best Show On Amazon You're Not Watching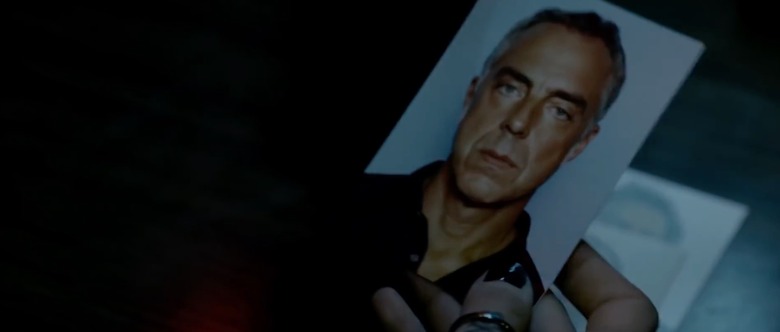 When it comes to Amazon's original television series, Transparent, Mozart In The Jungle and Man in the High Castle seem to get all the love. And they're good shows! However, there's one Amazon show that I enjoy that no one appears to be talking about: the cop drama Bosch.
Amazon has just released the trailer for Bosch season 3, which will focus on the investigation of a serial murderer who might be someone inside the Los Angeles police force. You can watch the trailer for yourself after the jump.
Bosch Season 3 Trailer
With a third season about to drop, there must be an audience for this detective drama out there somewhere, but it certainly doesn't seem to register within the watercooler conversation space that is my film Twitter bubble. To be fair, it's not an easy show to sell people on. Not only does the description feel generic and like a hundred other shows and movies, but the advertising for the show looks boring, focusing on the star power (or lack thereof) of Titus Welliver. I highly recommend people check this series out, but you probably shouldn't start with the new season.
For those of you who don't know (which could be most of you), Bosch is based on the series of novels by bestselling author Michael Connelly, with Jamie Hector, Amy Aquino, and Lance Reddick supporting Welliver as the title character. The new season will explore a serial murderer that may even be an LAPD officer, with Bosch himself becoming a suspect in his own investigation. I like the idea that this case is once again personal for Bosch and that to solve the mystery, he will need to clear his own name. Like the basic concept of the show itself, it's a familiar idea, but it should be well-executed.
Here's the official synopsis for Bosch season 3:
Angered by the truths behind his mother's murder, LAPD detective Harry Bosch struggles to find integrity in an imperfect justice system. The killing of a homeless veteran, the suicide of a serial killing suspect, and the high-profile murder trial of a Hollywood director pits Bosch against ruthless opponents who all threaten to destroy him. BOSCH Season 3 promises to be the most compelling yet.
Season 3 of Bosch is scheduled to be released by Amazon on April 21, 2017. Amazon has already renewed the series for season 4. So some of you must be watching it.