'Power Rangers' Clip: The Kids Have A Bad Feeling About This Alien Spacecraft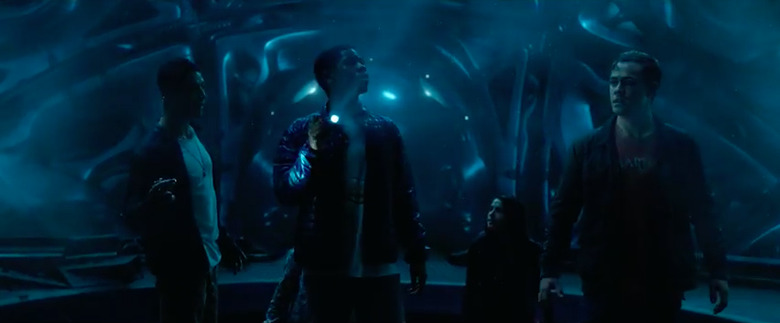 This month begins with the end of an existing franchise (Logan) and closes out with a reboot of an older one. After many years absent from the big screen, the Power Rangers have been rebooted and given a $100 million-plus facelift. If you want to see how the Mighty Morphi' Power Rangers have been updated for 2017, check out the Power Rangers clip below.
Director Dean Israelite's reboot of the long running kids' adventure series costs a reported $105 million (via Screen Rant). That's far more expensive than Israelite's previous feature, Project Almanac, which cost only $12 million. Very early on in the process, Power Rangers was reportedly budgeted at $35 million, but Lionsgate apparently decided to put more money into the film. It isn't as expensive as some reboots and tentpole films we see these days, but we've yet to see if it can come close to competing with them at the box office.
The story follows the teenage defenders of Angel Grove, with Dacre Montgomery, RJ Cyler, Naomi Scott, Becky G and Ludi Lin starring as the Red, Blue, Pink, Yellow and Black Rangers. Elizabeth Banks, who looks like she might bring some fun to this movie, co-stars as the villainous Rita Repulsa.
A new clip from Power Rangers shows the high school kids exploring the alien spacecraft and, when examined free of context, isn't the most convincing or exciting CG environment:
For those of you not brushed up on the history of Power Rangers, that robot at the end is Alpha 5, voiced by Bill Hader (The Skeleton Twins). Alpha 5 is the sidekick to the Power Rangers' leader, Zordon (Bryan Cranston). The trailer poked a little fun at Zordon – basically, a talking face on the wall – and Alpha 5, but hopefully Power Rangers isn't too ironic. After all, the diehard fans of this property probably don't want to see it treated like too much of a joke. Meanwhile, a non-fan like myself would happily watch a movie about Bill Hader playing a robot sidekick to Cranston's wise floating head.
Here's the official synopsis for the film:
Saban's Power Rangers follows five ordinary high school kids who must become extraordinary when they learn that their small town of Angel Grove – and the world – is on the verge of being obliterated by an alien threat. Chosen by destiny, our heroes quickly discover that they are the only ones who can save the planet. But to do so they will have to overcome their real-life issues and band together as the Power Rangers before it is too late.
Power Rangers opens in theaters March 24, 2017.