Mark Wahlberg Creating 'Alien Bounty Hunter' Comic, Just So It Can Become A Movie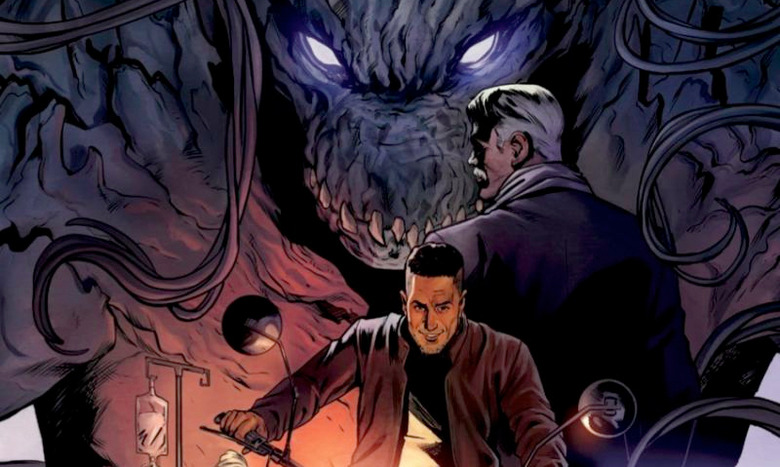 We have seen countless movies based on comic books. In almost all cases, those comic books existed independently of the film adaptation and they just happened to land a movie deal. However, there have been some instances where comic books were created with the sole purpose of being a pitch for a major motion picture. And that's what Mark Wahlberg is working on right now.
Vault Comics is working with Transformers franchise star Mark Wahlberg and his producing partner Stephen Levinson (Patriots Day, Deepwater Horizon and pretty much every Mark Wahlberg vehicle) to create a comic book called Alien Bounty Hunter, all so they can eventually turn it into a movie. Find out more about the Alien Bounty Hunter project, and check out some sample pages, below.
The story sounds like a fairly typical action thriller at first: a bounty hunter named Ben Madsen is tasked with apprehending yet another fugitive. But when he makes the shocking discovery that his target isn't human, he finds an entire, massive alien enclave housing some of Earth's most dangerous aliens.
There's clearly a Men in Black kind of vibe here, perhaps mixed with a little bit of Midnight Run. There's no clear indication as to whether this is meant to be a straight-up sci-fi action movie or if there will be a comedic element involved, but since it's being penned by Adrian F. Wassel (The Gifted) and David M. Booher (Powerless, the comic not the TV series), based on a story by Levinson and F.J. DeSanto (Failsafe, Cyborg 009), with art from Nick Robles (Maze Runner, Clockwork Angels), I'm betting it's steering more towards the serious side. Here's some of the early pages to give you an idea of what they're going for:
While it does sound like the kind of story that would make for a compelling comic book, the motivations don't feel pure. In a joint statement, Wahlberg and Levinson said, "Some of today's greatest film franchises originated as comics. We always try to get involved with the story telling process from its inception." If this weren't a comic, they could still be there from the story's inception, so while Alien Bounty Hunter being created with the hope of someone buying the rights to turn it into a movie is a smart move strategically, it still feels like a slap in the face to the medium of comics.
This isn't the first time comics have been exploited just so a title can be turned into a movie. The Cowboys & Aliens comic was created just so it could become a movie, though that didn't work out very well because the movie was garbage. Oblivion was also said to be based on a graphic novel created just to drum up film adaptation interest, but the material that inspired the movie was more like an illustrated novel rather than a story that was told purely with comic panels.
There's no guarantee that Alien Bounty Hunter will actually become a movie, but the combination of story and visuals in an easy-to-read package that reveals the vibe of the entire project, not to mention the involvement of Wahlberg and Levinson, will guarantee that it gets in front of some executives who may want to make it happen. Stay tuned.