Ice Cube Eyed For Miles Morales' Dad In The Animated 'Spider-Man' Movie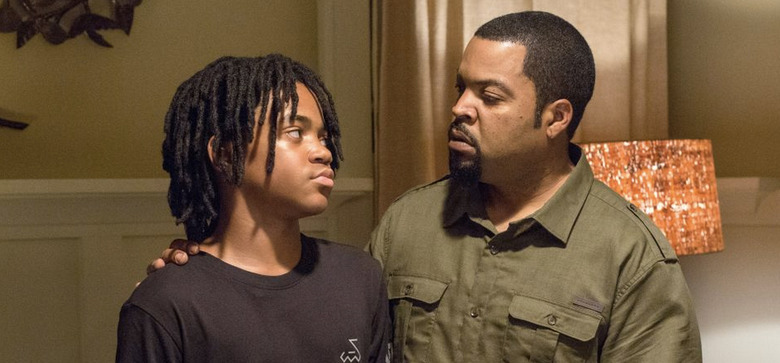 An actor has yet to be cast (or officially announced) as the voice of Miles Morales, but Ice Cube is possibly under consideration for the film. Apparently, Sony is eyeing him to voice the character's dad, Jefferson Davis, in Bob Persichetti and Peter Ramsey's animated Spider-Man movie. We'll see what happens, but someone who's officially joined the film is Disney XD's Gravity Falls creator Alex Hirsch.
Below, learn more about the untitled animated Spider-Man movie cast.
Co-host of Meet the Movie Press, Jeff Sneider, mentioned Sony is interested in Ice Cube voicing Davis. Considering Ice Cube worked with the animated film's producers, Phil Lord & Chris Miller, on 21 Jump Street and 22 Jump Street, it's easy to imagine conversations have been had about him voicing Davis. In the comics, Morales' father is a former NYPD cop who has a difficult relationship with his brother, Aaron, who once helped get him arrested, and then bailed out by Nick Fury.
Ice Cube's name was once rumored for the role of J. Jonah Jameson in Spider-Man: Homecoming. The producer and actor denied that rumor with this perfectly succinct response:
If I'm not playing Spider-Man, I'm not doing s***... I'm not about to play one of these side-busters.
The Wrap reports Alex Hirsch is now a story contributor on the animated Spider-Man movie. His series, Gravity Falls, aired from 2012 until last year on Disney XD. A few months after its finale, he signed on to co-write Legendary's live-action Pokemon movie with Nicole Perlman (Guardians of the Galaxy).
We still know close to nothing about the animated Spider-Man movie. "It is not going to feel like every other Spider-Man movie you've seen," Miller has said. "It will stand on its own as a unique filmgoing experience." That sentiment has been expressed by others involved in the movie.
About a month ago or so at a Sony Animation presentation they showed very brief tests and some concept art from the film. There was a point-of-view shot of Spider-Man looking over a rainy, lit up New York City night before swinging after a criminal. The colors, even Spider-Man's reflection in a puddle, were vibrant. Again, not much was shown, but Spider-Man's speed stuck out. When a shot was showing him closing in on a criminal on a motorcycle, he looked maybe faster than he's ever been. Considering how creative Ramsay got with the action in Rise of the Guardians, I'm looking forward to seeing what he can do with an animated version of the web slinger.
The animated Spider-Man movie opens in theaters December 21st, 2018.