First Look: Emily Blunt Is Practically Perfect In 'Mary Poppins Returns'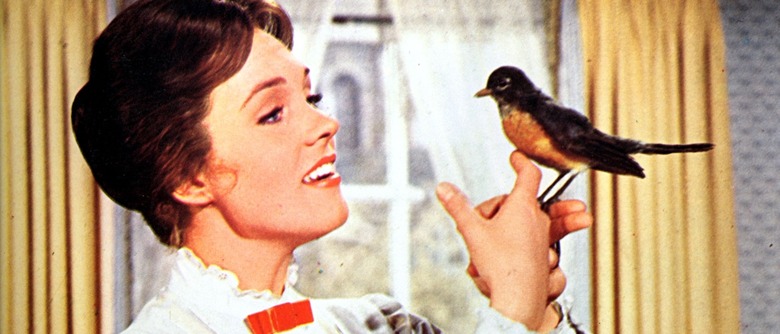 It seems like everyone in Hollywood is in the nostalgia business right now, with more remakes and reboots and reimaginings coming out than you can shake a stick at. But no one's better at this game than Disney, who's been revisiting what feels like every single feature in its catalogue – usually to warm reviews and smashing box office. And one of the many on their upcoming slate is Mary Poppins Returns, a sequel to their 1964 hit.
Emily Blunt replaces Julie Andrews as the practically perfect nanny, who's reunited with the Banks family 20 years after the events of the original film. The Great Depression is at its nadir and the Banks kids are grown-ups now (played by Ben Whishaw and Emily Mortimer), with children of their own. But in their time of need, Mary comes floating back in their lives to help them rediscover joy and wonder. See Blunt in a Mary Poppins Returns first look photo below. 
Here's the Mary Poppins Returns first look from Disney.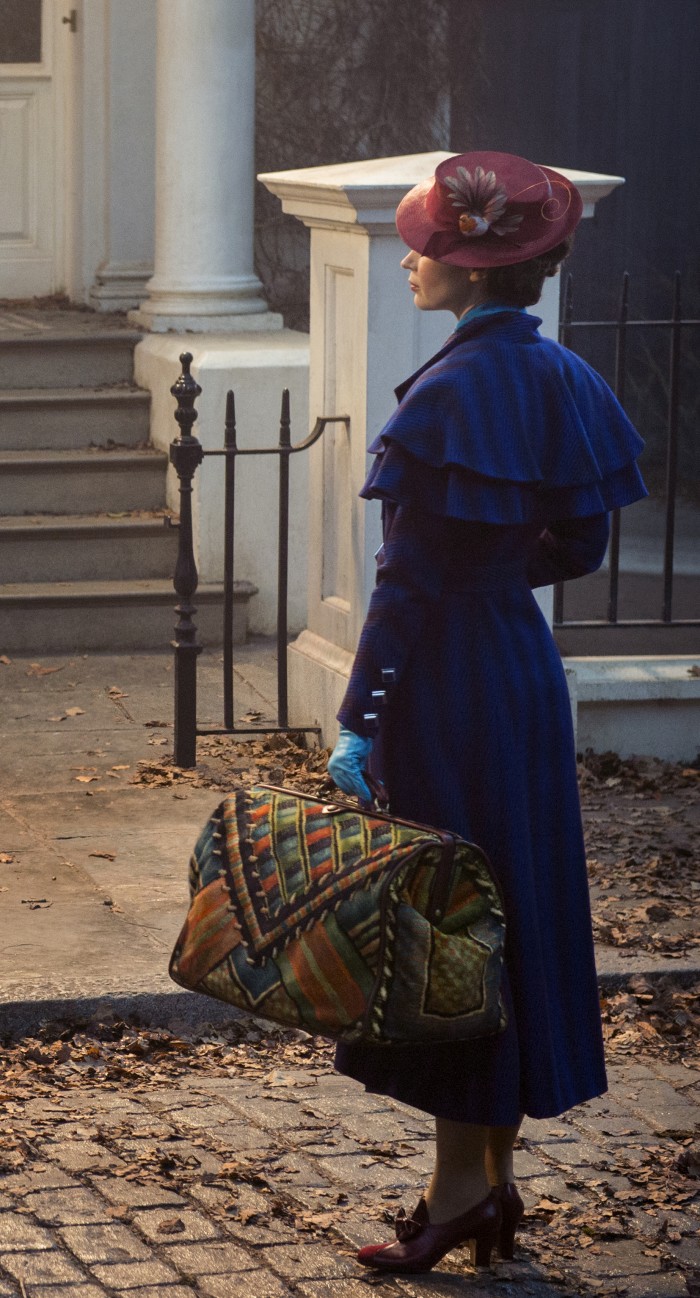 Those eager to compare Blunt's performance to Andrews' won't find much to go on here. You get enough of Blunt's profile to see that she's got a different chin, but that's about it. Instead, this image is more about getting you excited for a slightly updated twist on an old favorite character. The clothes are a little different (and actually, that red hat / blue coat combo reminds me of Paddington more than it does Poppins), but they're still perfectly prim and proper, in keeping with our memory of her from our childhoods. It also looks like she's swapped out her old carpet bag for a new one. She might be a magical nanny, but she still likes to keep up with the latest trends.
Besides Blunt, the cast includes Meryl Streep as Mary's cousin Topsy, Lin-Manuel Miranda as Mary's lamplighter friend Jack, Colin Firth as banker William Weatherall Wilkins, Julie Walters as housekeeper Ellen, and Angela Lansbury as a balloon vendor. Rob Marshall is directing the new adventure, which floats into theaters December 25, 2018.
Mary Poppins Returns is set in 1930s depression-era London (the time period of the original novels) and is drawn from the wealth of material in PL Travers' additional seven books. In the story, Michael (Ben Whishaw) and Jane (Emily Mortimer) are now grown up, with Michael, his three children and their housekeeper, Ellen (Julie Walters), living on Cherry Tree Lane. After Michael suffers a personal loss, the enigmatic nanny Mary Poppins (Emily Blunt) re-enters the lives of the Banks family, and, along with the optimistic street lamplighter Jack (Lin-Manuel Miranda), uses her unique magical skills to help the family rediscover the joy and wonder missing in their lives. Mary Poppins also introduces the children to a new assortment of colorful and whimsical characters, including her eccentric cousin, Topsy (Meryl Streep).