Celebrate 'Logan' With Hugh Jackman's Baby-Faced 'X-Men' Audition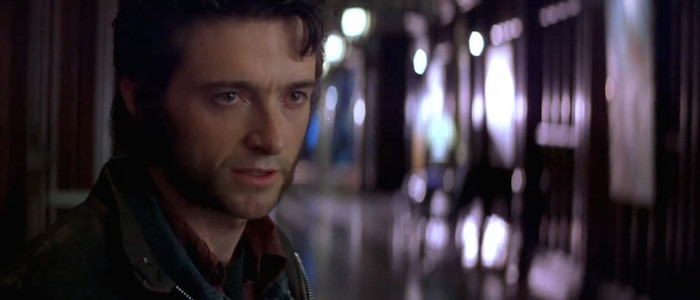 Wolverine could have defined Hugh Jackman. Instead, Hugh Jackman defined Wolverine. He used that adamantium-clawed mutant superhero to launch himself into a career where he could also star in musicals and romantic comedies and eccentric sci-fi-tinged explorations of tragedy. Few modern actors have made movie stardom work for them quite like Hugh Jackman. None of his performances feel like a compromise.
But with Logan signaling the end of this chapter of Jackman's career, it's time to get nostalgic. It's tome to travel back to 1999, before superhero movies were big business, back when Hugh Jackman was just fit and not hand-chisled out of marble. Let's watch his original X-Men audition.
This video has been around for some time, but it's making the rounds again today for obvious reasons. A tip of the hat to The Hollywood Reporter for reminding us to revisit this one.
Like with most film auditions, you can't quite see a fully-formed character here. What you can see is a young man who looks the second coming of Clint Eastwood showing something, even if that exact something has yet to be fully defined. Going with an unknown actor with only a handful of film credits to his name turned out to be a canny move – Wolverine was allowed to blossom without the baggage of a big name.
It's no secret that Jackman was not the first choice. Dougray Scott was initially cast in the role and in new interview, X-Men screenwriter David Hayter revealed exactly what went down:
[Then-Fox executive] Tom Rothman really wanted Dougray Scott to play Wolverine and he was shooting Mission: Impossible 2 and Tom Cruise kept calling Byran and saying, "We just need him a little while longer, a little while longer." We were starting to shoot and Wolverine was the lead and we didn't have him. Bryan suspected something was hinky, and so he sent the costume designer down to Australia, ostensibly to get wardrobe shots, but really it was to find out what was going on. What we found out was Dougray had been in a motorcycle accident filming the climax of MI2. He was pretty messed up. It was a real shame he couldn't do it. And Hugh had been somebody who had been in the mix earlier and it was [executive producer] Lauren Shuler Donner who said, "Why don't we bring him?"
It's easy to feel bad for Scott, who missed out on the role of a lifetime, but it's easier to appreciate the twist of fate that dropped Jackman into this role. Superhero movies would never be the same.
Logan is in theaters today. The reviews have been raves.