How 'Who Framed Roger Rabbit?' Elevated The Live-Action & Animation Hybrid [Video Essay]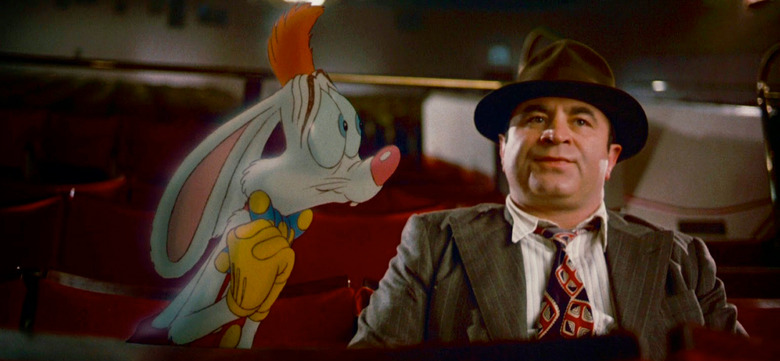 Who Framed Roger Rabbit? is a classic movie for a number of reasons. Not only is it a stellar mash-up of two completely different genres, the family movie and film noir, but it's also a technical marvel. The 1989 Academy Awards gave Robert Zemeckis' film Best Film Editing, Best Sound Effects Editing, Best Visual Effects and a special honorary Oscar for its creation of animated characters. not to mention nominations for Best Cinemtography, Best Art Direction/Set Decoration and Best Sound.
Now a new Who Framed Roger Rabbit video essay dives into some of the elements of the film that make this combination of live-action and animated footage work so seamlessly. You may have already realized some of these details yourself, but they're also the kind of details one might take for granted so that you may never really notice them.
According to this video essay, there are three important elements that make live-action and animation blend together in a way that feels seamless. Those elements are matching eyelines, physical interaction and light & shadow accuracy.
Who Framed Roger Rabbit? is a crowning achievement in filmmaking because of how director Robert Zemeckis was able to make it feel like cartoons and real people existed in the same universe. That meant the animated characters always had to be exactly where any human character was looking. Practical effects had to be employed to make it look like animated characters were interacting with real life props and sets.
Perhaps most impressively though, there had to be meticulously crafted layers of animated were created in order to light and shade animated characters to look like they were part of the real world's brightness and darkness. This is one of the details that I personally didn't take special noticed of when watching the movie before, but I certainly will be keeping an eye on that details next time I sit down to watch it.