'Logan' Projected To Make $170 Million Worldwide This Weekend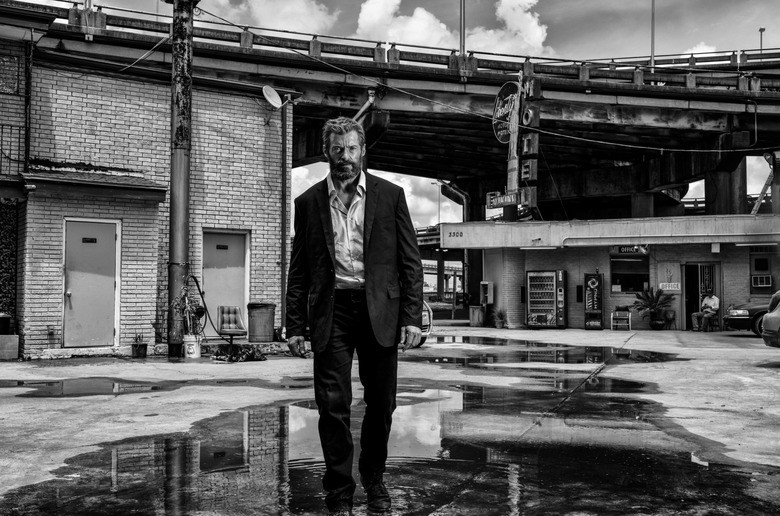 20th Century Fox film chairman Stacey Snider recently said a couple of execs at the studio were at once cautious about the direction Logan was heading in. Some of them were asking: Is James Mangold's R-rated comic book movie too dark? Will a more contemplative look at the Wolverine (Hugh Jackman) bore audiences to tears? Those nervous nellies will likely soon breathe a big sigh of relief, because not only has Logan been championed by critics, it's projected to make around $65 million domestically and even more overseas this weekend.
Below, learn the Logan box office projections.
According to Deadline, Logan is expected to make $65 million in the states this upcoming weekend at least. Worldwide, it's possible the film will make $170 million. Studio rivals believe the film may surpass expectations, though. Logan is the widest R-rated release to date, opening in around 4,071 theaters.
Back in 2009, X-Men Origins: Wolverine opened to $85 million, and it went on gross $179 million domestically. That film's far superior sequel, The Wolverine, surprisingly made less in the states. Mangold's sequel earned $132 million, but it made over double that in foreign territories. Both of those movies were PG-13, meaning more audiences could see them, but arguably neither of those movies had this level of buzz and enthusiasm leading up to their releases. Logan, which is Jackman's swan song as the charcter, feels like much more of an event.
The previous Wolverine movies had bigger budgets, too. Mangold and all involved kept Logan's budget at just over $100 million. They didn't make the film for too wild of a figure, so they lowered the risk a part of making a more dramatic, R-rated comic book movie, which our own David Chen called his favorite superhero movie after praising it in his review "an incredible film."
Maybe like last year's Deadpool, another much lauded and more unconventional comic book movie, Logan can exceed box-office expectations. We'll how it performs this weekend, but whatever happens, it looks like Mangold's critical darling is on its way to making some good money and, more importantly, providing Wolverine fans with a heartfelt goodbye.
Here's the synopsis for Logan:
In 2024 the mutant population has shrunk significantly and the X-Men have disbanded. Logan, whose power to self-heal is dwindling, has surrendered himself to alcohol and now earns a living as a chauffeur. He takes care of the ailing old Professor X whom he keeps hidden away. One day, a female stranger asks Logan to drive a girl named Laura to the Canadian border. At first he refuses, but the Professor has been waiting for a long time for her to appear. Laura possesses an extraordinary fighting prowess and is in many ways like Wolverine. She is pursued by sinister figures working for a powerful corporation; this is because her DNA contains the secret that connects her to Logan. A relentless pursuit begins ... In this third cinematic outing featuring the Marvel comic book character Wolverine we see the superheroes beset by everyday problems. They are aging, ailing and struggling to survive financially. A decrepit Logan is forced to ask himself if he can or even wants to put his remaining powers to good use. It would appear that in the near-future, the times in which they were able to put the world to rights with razor sharp claws and telepathic powers are now over.
Logan opens in theaters March 3rd.