'War Machine' Trailer: Brad Pitt Goes Into Battle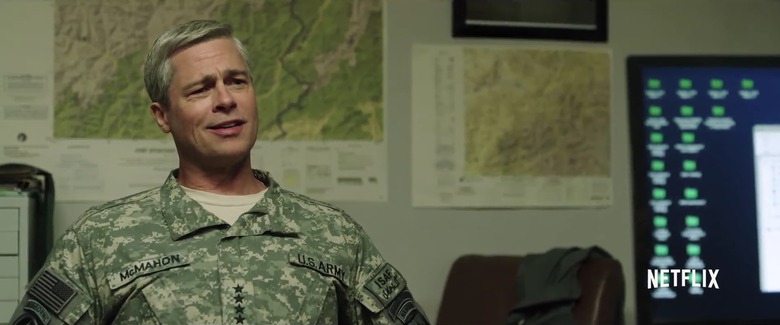 One of the interesting things about Netflix's massive original programming slate is that unlike a lot of traditional distributors, they don't really have a type. They'll release gritty superhero dramas and fluffy kiddie fare, sober documentaries and goofy standup specials, Adam Sandler comedies and arthouse oddities. They've got a little something for everyone, which makes perfect sense since "everyone" is their target customer.
So while we're not super into, say, Sandy Wexler, we're more than happy to tolerate its existence if it means we also get movies like War Machine. Directed by David Michôd (of Animal Kingdom fame), the pitch-black satire stars Brad Pitt as real-life U.S. general Stanley McChrystal. You may remember his dramatic fall from grace a few years ago after a Rolling Stone exposé. Tilda Swinton and Ben Kingsley also star. Check out the War Machine trailer below. 
War Machine Trailer
Pitt tends to be far better in character actor mode than he is in somber leading man mode, and War Machine looks like it makes good use of his talents. The pitch-black tone reminds me of another of his great recent roles, Burn After Reading, though (fortunately for our country) McChrystal doesn't seem nearly as ditzy as Pitt's character in that one. And he's got plenty of other great talents to work with here, including established veterans like Swinton and Kingsley as well as young rising stars like Lakeith Stanfield, Will Poulter, and Emory Cohen.
War Machine hits Netflix May 26.
A pitch-black war story for our times, writer-director David Michôd (Animal Kingdom) recreates a U.S. General's roller-coaster rise and fall as part reality, part savage parody – raising the specter of just where the line between them lies today. His is an absurdist look at a born leader's ultra-confident march right into the dark heart of folly. At the story's core is Brad Pitt's sly take on one of the most polarizing war figures of a generation: successful, charismatic four-star General Stanley McChrystal, who leapt in like a rock star to command NATO forces in Afghanistan, only to be taken down by a journalist's no-holds-barred exposé.
The Netflix original film is based on the book The Operators: The Wild & Terrifying Inside Story of America's War in Afghanistan by the late journalist Michael Hastings. Joining Pitt in War Machine is a highly decorated cast including Tilda Swinton, Sir Ben Kingsley, Anthony Michael Hall, Topher Grace, Will Poulter, Lakeith Stanfield, Emory Cohen, John Magaro, RJ Cyler, Alan Ruck, Scoot McNairy and Meg Tilly. Ian Bryce and Plan B's Dede Gardner, Jeremy Kleiner and Brad Pitt serve as producers. James Skotchdopole serves as executive producer.