'Guardians Of The Galaxy Vol. 2' Trailer Breakdown: Let's Go Through This Thing Frame By Frame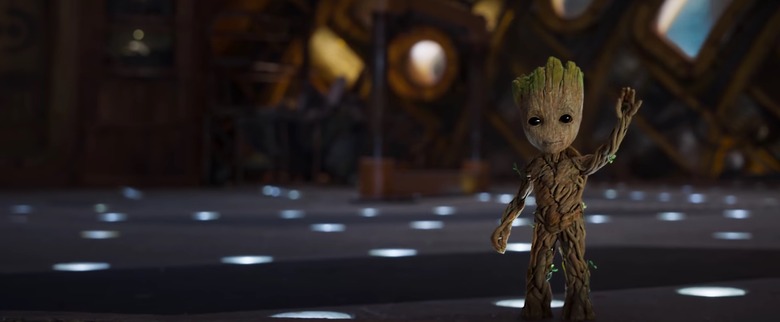 Last night, Marvel Studios premiered the new trailer for Guardians of the Galaxy Vol. 2. And because we are nothing if not predictable, you know what that means: it's time to comb through this footage frame by frame and figure out what it tells us about the new movie. (The fact that it doubles as an excuse to coo at all the new shots of Baby Groot is just the icing on the cake.) So watch the trailer here if you haven't already, and then join us below to break this thing down.
The new trailer opens with the same Abilisk battle we've seen in all the other footage from the film so far. But this time, it's served up with a side of extra snark.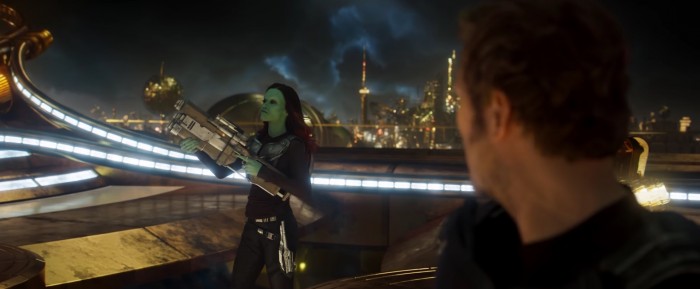 You see, Peter's none too pleased with Gamora's new weapon of choice. "Is that a rifle?" he asks. Her retort: "You don't know what a rifle looks like?"
"It's just, swords were your thing and guns were mine," he says. "But I guess we're both doing guns now. I just didn't know that."
As a side note, opening with this exchange allows Vol. 2 to immediately push back against the criticism that Gamora hasn't really talked in any of the other trailers. She might not get the coolest one-liners or the funniest jokes, but Marvel wants to make sure you know she's got something to say.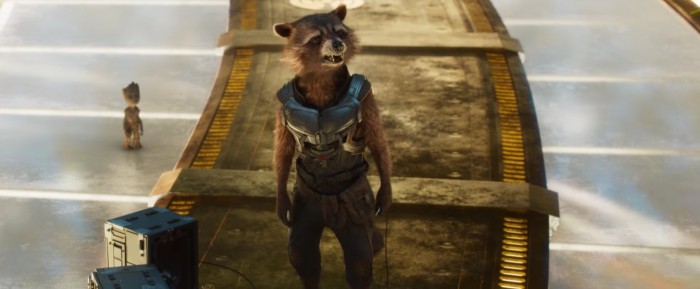 At the 0:15 second mark, our first sighting of Baby Groot!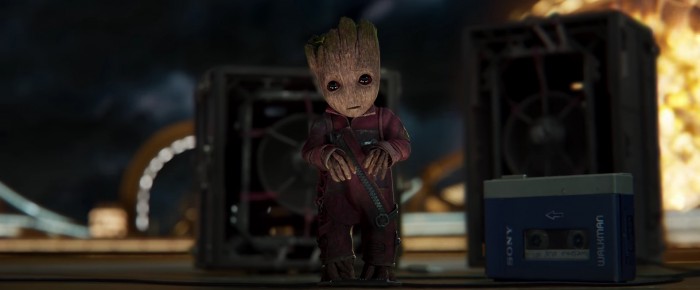 But wait, it gets better! Groot is the one who plugs Star-Lord's Walkman into the amp, thus setting the tone for the rest of the trailer. Mind you, this seems to be going on while the battle above is still raging. Groot knows how crucial a good soundtrack in helping to get shit done. Once again, the soundtrack is Fleetwood Mac's "The Chain."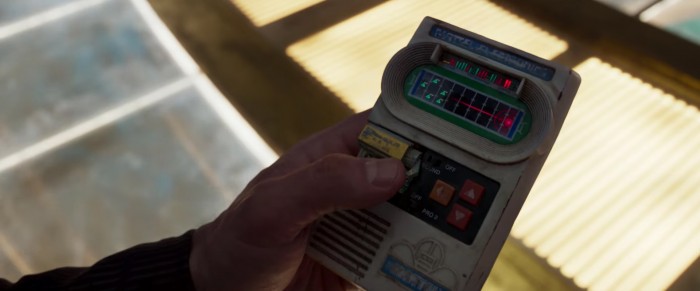 Speaking of ancient technology, here's a better shot at the gadget Star-Lord is using in this scene. Gen Xers and older Millennials might recognize this as a slightly tweaked version of the Mattel Electronics Football handheld game from the 1970s. Apparently it's been reprogrammed as some sort of device that lets the Guardians track that Abilisk.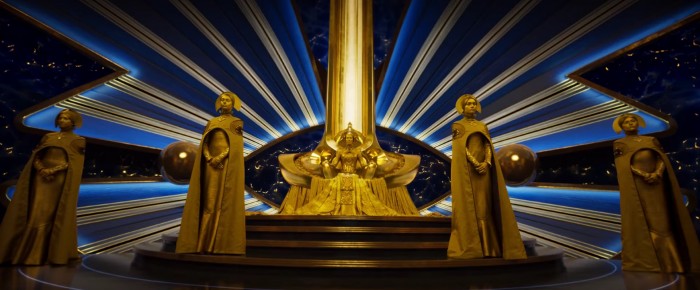 After the Marvel Studios title card, we go straight into this blue and gold throne room. Sitting at the center is Ayesha, leader of the Sovereign and villain of Vol. 2. She is not too happy with the Guardians and starts to list off everything wrong with them. "I see it within you," she intones.
"Fear."
Cut to a shot of a terrified-looking Baby Groot. I hope whoever made Baby Groot this sad pays for it with their life.
"Jealousy."
Cut to a shot of Gamora and Nebula, two sisters with a very complicated relationship. In Vol. 2, the Guardians have agreed to take care of the Abilisk so that the Sovereigns will release Nebula. The plan is for the Guardians to then take Nebula to Xandar and turn her in. So it's no wonder Nebula doesn't look all that thrilled to see Gamora.
"Betrayal."
Cut to a shot of what looks like Yondu and his Ravagers trapping Rocket in the forest. Keep this scene in mind, though, because we're going to come back to it later.
Ayesha continues: "It is our duty to cleanse the universe of this weakeness." Meanwhile, we see a spaceship piloted by what looks like one of the Sovereign.
And then we see dozens more identical spaceships, seemingly piloted by still more Sovereign people and forming a tight grid. It looks like the same move that the Nova Corps pulled in the Vol. 1 climax, only this time the ships seem to be targeting the Guardians, not helping them.
Previously, we've heard that the bad blood between the Guardians and the Sovereign stem from a botched job. The Sovereign originally hired the Guardians to battle the Abilisk (that space octopus seen at the start of the trailer). But things don't go well, the Guardians piss off the Soveriegns in the process, and now it looks like our heroes will face an entire army of these genetically perfect people. The Sovereigns' biggest flaw, if you can even call it that, is that they're apparently very easily offended.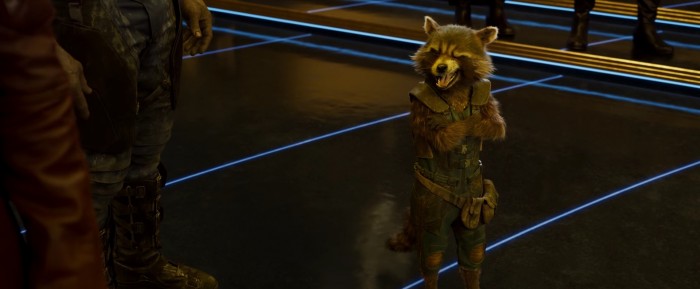 ... And of course, the Guardians are a pretty offensive bunch. "You know, they told me you people were conceited douchebags. But that isn't true at all!" Rocket tells Ayesha with a wink. It's a faux pas so obvious even Star-Lord and Drax are taken back.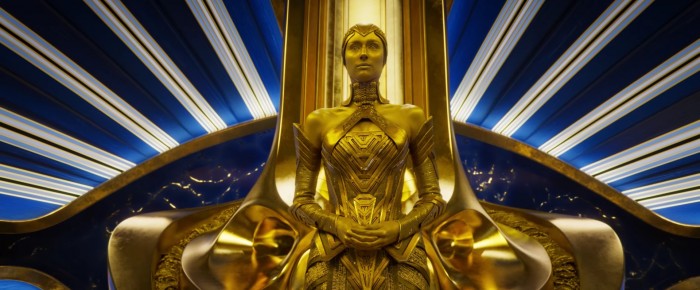 Yep, that's the face of someone who is definitely not amused by this group's antics.
We launch into a shot of Star-Lord piloting his ship. It's all very action packed and exciting, but there's a scene-stealer aboard. "Groot, put your seatbelt on!" yells Star-Lord.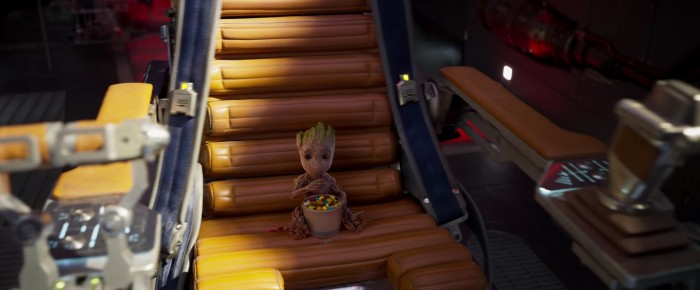 Groot is eating candy out of what might be the same pot he was dancing in one movie ago. I wonder if that's the same candy advertised on Star-Lord's light blue shirt — during Peter's visit to the set, Chris Pratt revealed that indecipherable alien language on his chest was advertising a made-up brand of space candy. Anyway, Groot does not listen to Star-Lord's warning.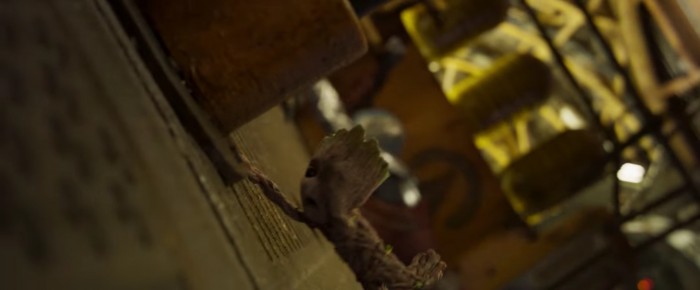 So this happens. So help me, if anything bad happens to Baby Groot at all in this movie, I will never watch another Marvel movie again.
(Yes, that's clearly an empty threat. I'll probably be watching these damn things til I die. But I'll be really upset, is the point I'm trying to make!)
OK, remember that moonlit scene in the forest from earlier? And remember those glowing blue explosions we saw in earlier trailers? Now we get a bit more context. It looks like someone's rigged a trap that unleashes a torrent of explosive arrows (or something) on the Ravagers. Who's behind this madness?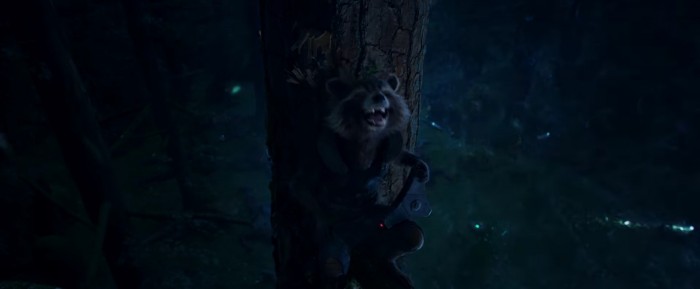 Why, Rocket, of course.
So... what exactly is going on here? Well, the Ravagers are hired by Ayesha to help hunt down the Guardians. Yondu advises his Ravagers against taking the job, but that just results in a mutiny led by Taserface. Which leads to Rocket, Groot, and Yondu being held captive, which leads to them escaping, which leads to Yondu breaking with the Ravagers for good and becoming a full-fledged member of the Guardians. At least, that's what it looked like in the last promo.
If I had to guess, I'd say this forest scene takes place in the middle of all that — after the Ravagers accept the gig but before Taserface leads his mutiny and before Yondu allies himself with the Guardians.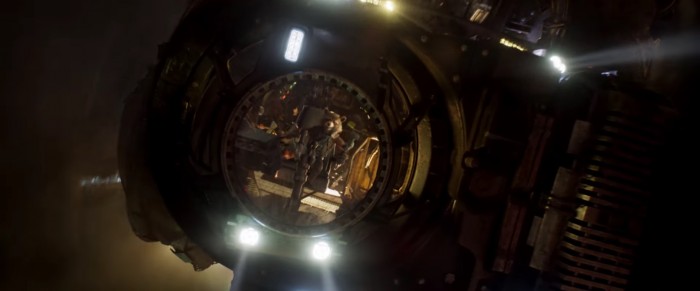 While all of this is going on, there's still the matter of saving the galaxy. Rocket's thrilled to play the hero again, but not because he's such a good guy: "We're really going to be able to jack up our price if we're two-time galaxy savers!"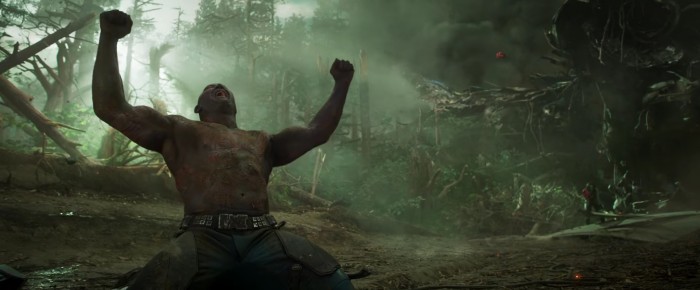 Here's that shot of Drax yelling at the sky again, with yet another different line of dialogue cut in. This time, he just yells "yeah!" I'm guessing this is the actual line in the movie.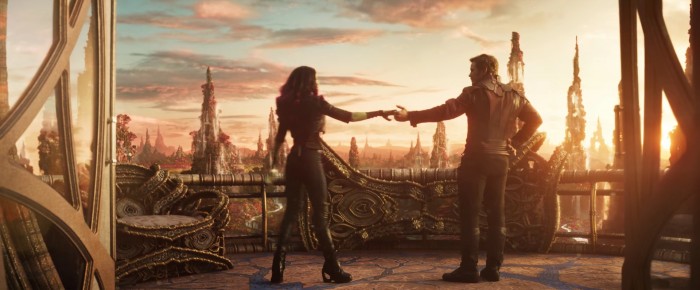 Each of the Guardians gets their own little introduction in the trailer. Star-Lord's is a romantic moment with Gamora. She twirls into his arms as the sun sets over a beautiful planet. They don't quite kiss, but they get close.
In a previous trailer, Drax told Star-Lord, "There are two types of beings in the universe: those who dance, and those who do not." But while dancing may not come naturally to Gamora, it looks like she might be willing to learn for Star-Lord.
Gamora's intro shows her shooting at a downed ship. Stay tuned to find out what that ship might be.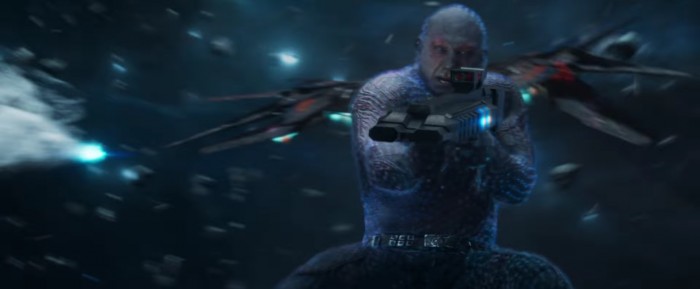 And Drax's has him gliding around and shooting at things while wearing... what appears to be a glowing skin? It's got a scaly, almost reptilian texture to it that is different from Drax's normal skin, so maybe it's protective gear.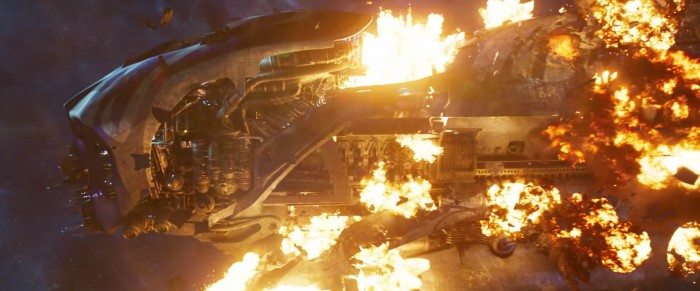 This is what he's shooting at. It looks like a really big ship, not a personal shuttle. Maybe one belonging to the Sovereign?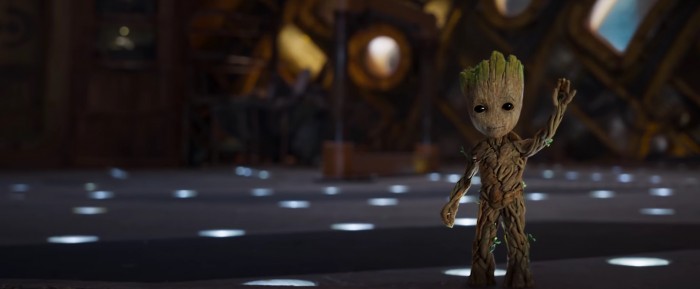 My favorite moment in the trailer is this one, which takes us back to that Abilisk battle from the start of this promo. Baby Groot waves...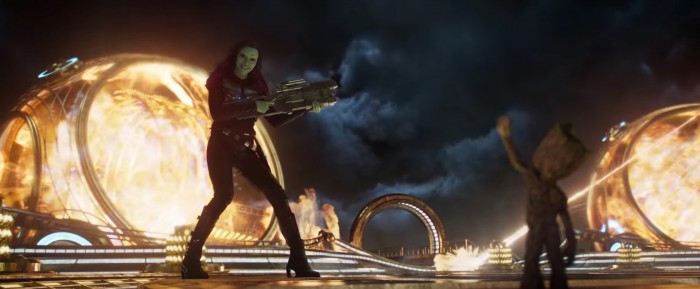 ... And Gamora says "hi" back, despite being in the middle of an intense explosive battle against a giant space monster. Because what are you going to do, not say hi back to the cutest little sentient tree that ever lived?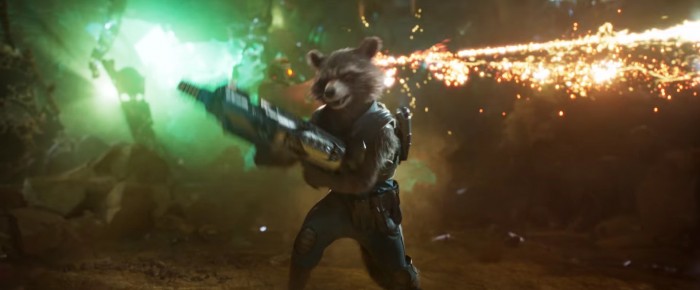 Rocket makes a hero landing and cocks his gun.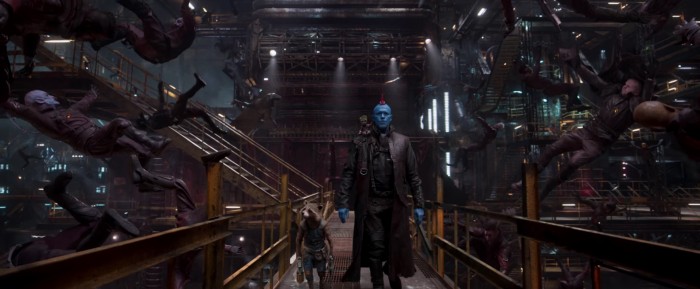 Here's Yondu after he breaks out of Ravager jail with Groot and Rocket, as we mentioned above.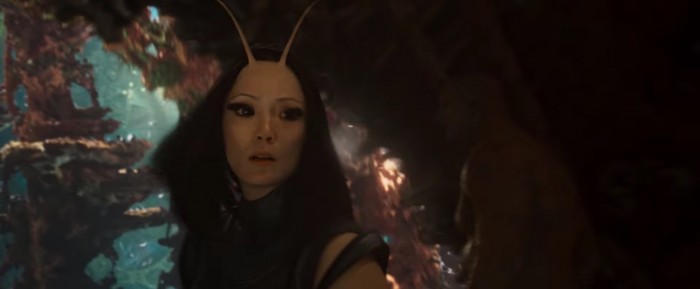 And here's the Guardians' newest friend, Mantis. We've seen parts of this scene already, and it seems to be the climactic third-act setpiece. If that's the case, it looks like Mantis is here to stay.
Now, this part is interesting. Remember Nebula flying a ship in the last trailer? That shot reappears here, only this time we get to see what she's shooting at.
Turns out it's her sister, Gamora.
Nebula is kind of like Yondu in that we know she has familial ties with the Guardians, and that she's been at odds with them in the past — but as with Yondu, it looks like she joins up with the team by the end. Presumably, this part takes place well before the sisters make up. Perhaps it's around the beginning of the movie, either just before she falls into the Sovereigns' hands or just after she finally gets free of them.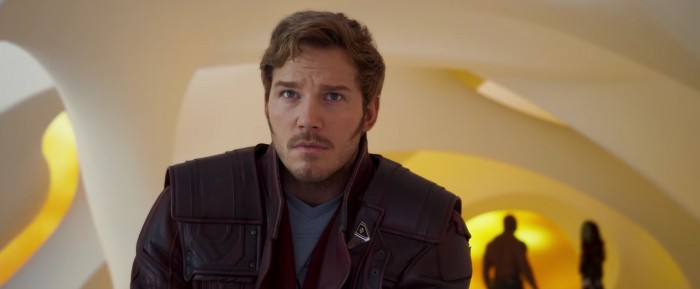 Here's another intriguing moment. We cut to this shot as Peter says, in voiceover, "Sometimes, the thing you're searching for your whole life is right there by your side all along." Hm.
And then we cut to this mysterious paradise, the same planet that Gamora and Peter were dancing on earlier in the trailer. Everyone looks really, really blissed out. Probably too blissed out. No one gets to be this content in a superhero movie without something terrible immediately happening. So is this just a nice little respite from all that fighting? Are the bubbles just a sweet little callback to those glowing sparkly things that Groot made at the end of Vol. 1? Or have the Guardians been lured into some of trap? Hmmm.
Anyway, let's put a pin in that for now so we can get to more Guardians drama. I'm not quite sure where this scene takes place, but the style looks kinda Sovereign-y, so I'm gonna guess it's there. Nebula does not seem too impressed by her sister's new buddies, snarking, "All you do is yell at each other. You're not friends."
Drax disagrees. "No, we're family," he says, sounding for all the world like Dom Toretto. "Well, except maybe her," he adds, gesturing to Nebula.
And speaking of family...
After the Guardians title card, we get one last scene set in a forest. This doesn't seem to be the same sequence as the Ravager battle, since this one is set during the day. It's worth noting here that Nebula's still in cuffs (and sporting a shiny new mechanical arm after she lost her original arm in her Vol. 1 showdown with Gamora). So this scene probably takes place pretty early in the show, maybe right after the Guardians escape the Sovereign.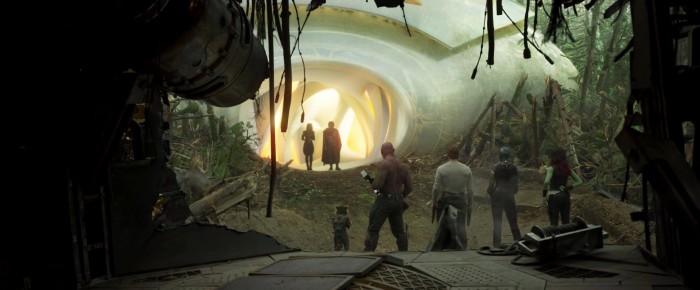 The Guardians are all looking at a giant white ovoid ship that's landed in the forest. A portal opens and two figures stand in the entryway. "After all these years, I've found you," says a male voice.
"And who the hell are you?" responds Peter.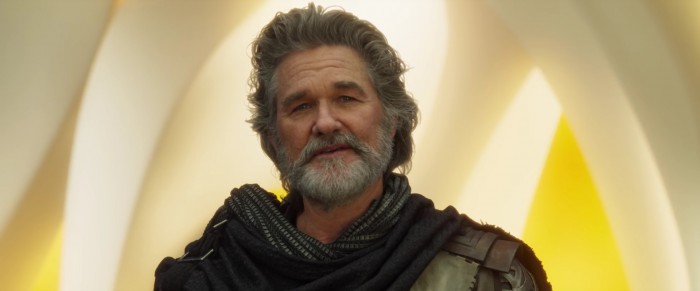 Kurt Russell emerges. "I'm your dad, Peter."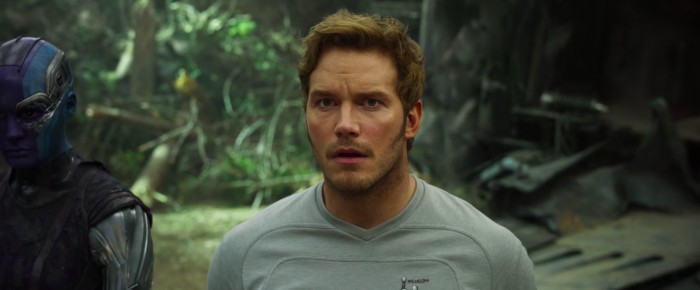 Yep, us too.
While Russell's name is not revealed in this trailer, we already know he's playing Ego the Living Planet. Since we know the obvious next question is "how could a planet father a child?" we'll tell you. In the footage we saw at Comic-Con, Ego explains to Peter that although he is not human, he has made a human body for himself (including a penis, much to Drax's relief). Planet or not, it must be pretty cool to find out that Kurt Freakin' Russell is your dad.