'Guardians Of The Galaxy Vol. 2' Trailer: Meet Kurt Russell's Ego The Living Planet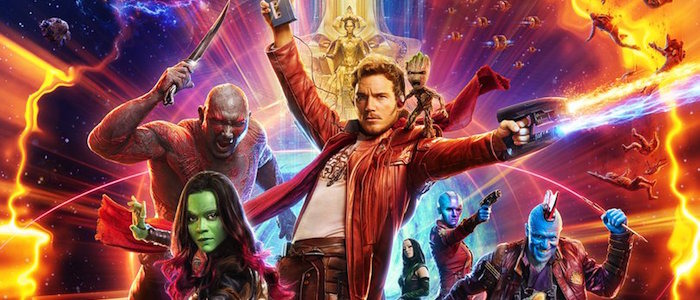 Your favorite galaxy-saving a-holes are back... or they're about to be really soon, in any case. Marvel Studios has just dropped the new Guardians of the Galaxy Vol. 2 trailer, which assembles the whole gang: Star-Lord (Chris Pratt), Gamora (Zoe Saldana), Drax (Dave Bautista), Rocket Raccoon (Bradley Cooper), and Baby Groot (Vin Diesel). In typical fashion, they're flying by the seats of their pants — but if we know them, they'll manage to get it together just in time to save the MCU from completely imploding.
Check out the latest Guardians of the Galaxy Vol. 2 trailer below, which includes our first look at Kurt Russell as Ego.
Guardians of the Galaxy Vol. 2 Trailer
Much like the Fast and the Furious series, the Guardians of the Galaxy franchise is all about family. The last film dug deep into Peter Quill's relationship with his mom; in this one, he finally gets to meet his biological dad, who turns out to be an actual planet played Russell. God bless Marvel Comics and James Gunn for their gleeful willingness to get weird. Also joining in on the adventures this time will be Star-Lord's foster dad, Yondu (Michael Rooker), and Gamora's adopted sister, Nebula (Karen Gillan). Meanwhile, Ego will bring Mantis (Pom Klementieff) into the fold, and Ayesha (Elizabeth Debicki) will be the villainess chasing after all these lovable rogues.
Guardians of the Galaxy Vol. 2 lands in theaters May 5.
Set to the backdrop of 'Awesome Mixtape #2,' Marvel's Guardians of the Galaxy Vol. 2 continues the team's adventures as they traverse the outer reaches of the cosmos. The Guardians must fight to keep their newfound family together as they unravel the mysteries of Peter Quill's true parentage. Old foes become new allies and fan-favorite characters from the classic comics will come to our heroes' aid as the Marvel cinematic universe continues to expand.