Marvel's 'Inhumans' Series Casts Anson Mount As Black Bolt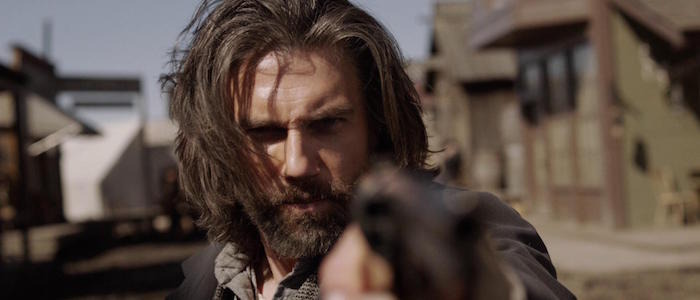 The tricky thing about Marvel's Inhumans characters is that their leader, the closest thing these stories have to a main character, is a man of very few words. Mainly because those words can literally tear down cities and turn mountains into rubble. When it come to engaging in conversation, Black Bolt a very selective fellow.
Marvel and ABC's Inhumans television series is gearing up for production soon and Blackagar Boltagon (yes, that is his real name) has officially been cast. Anson Mount, best known from his work in AMC's Hell on Wheels, will play the tight-lipped superhero.
And as you'd imagine, the official announcement is all about how how Mount is certainly up to the challenge of playing a character who never speaks unless he's starting right at someone he wants to completely destroy. Here's Jeph Loeb, Head of Marvel Television:
Anson loves the challenge of playing a character who will only communicate silently. His enthusiasm mixed with his imposing almost regal persona made it easy to see why he is our Black Bolt.
Showrunner Scott Buck also chimed in:
Black Bolt is a character whose deep complexity must be conveyed without uttering a single word, and I'm very excited to have Anson on board to bring him to life.
While this won't be the first time Mount has headlined a television series, Inhumans is attempting to do something no other television show has ever done. The bulk of the eight-episode first season will air on ABC (which is also home to Marvel's Agents of S.H.I.E.L.D.), but the first two episodes are being shot on IMAX cameras and will screen in actual movie theaters, a choice that further blurs the line between film and television. Director Roel Reiné will helm those first two episodes.
Mount is the second recognizable television veteran to join the cast, following Game of Thrones star Iwan Rheon, who is set to play Black Bolt's villainous brother, Maximus.
The Inhumans series raises a few questions. How do you introduce characters this odd (the Inhumans are genetically modified superheroes whose abilities are triggered after exposure to "Terrigen mist") to a larger audience? Will people be interested in following these characters from the big screen to the small screen? I'm reminded of how Marvel comics have spent the past few years bending over backwards to make the Inhumans vital players in their universe, with mixed results. These guys are a tough sell for people who actually buy comic books, so they're going to be a tough sell for normal people.
In any case, Mount seems like a strong choice for Black Bolt. He's an intense-looking man and the right age to be playing the seasoned ruler of an odd corner of the Marvel Cinematic Universe. I sure hope they pull this one off.