More 'Iron Fist' Photos Tease Action And Attitude; Finn Jones Addresses Casting Controversy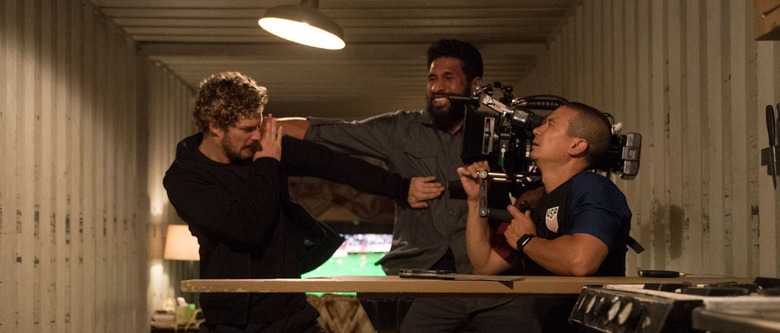 Netflix has more original content coming up in the next couple of years than we can count, but one of their next big productions — and one we're especially curious about — is Iron Fist. Not only is it the last of the four standalone Marvel superhero dramas leading up to the Defenders crossover event, its hero looks very different from the others we've met so far. Whereas Daredevil, Jessica Jones, and Luke Cage have all been gritty street-level types, Danny Rand is a billionaire business scion with mystical martial arts superpowers. So... what's that about? How's he gonna fit into this (relatively) grounded universe? Who are his new buddies? And what do those Justin Timberlake curls look like in action?
We won't really find out until Iron Fist actually premieres in a couple of weeks, of course. But while we wait, a new batch of images and behind-the-scenes photos are here to give us a little taste. Check 'em out below. 
First, Netflix has shared a bunch of Iron Fist behind-the-scenes images teasing some of the exciting action to come. Like... this incredible shot of Danny Rand sitting in an office!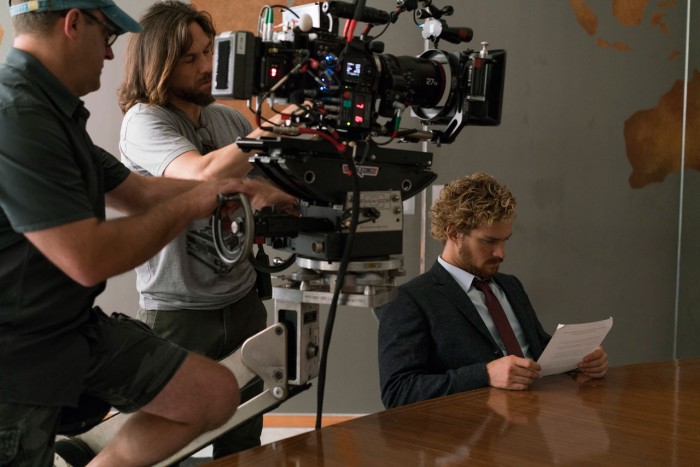 And... this one of him sitting on a bed!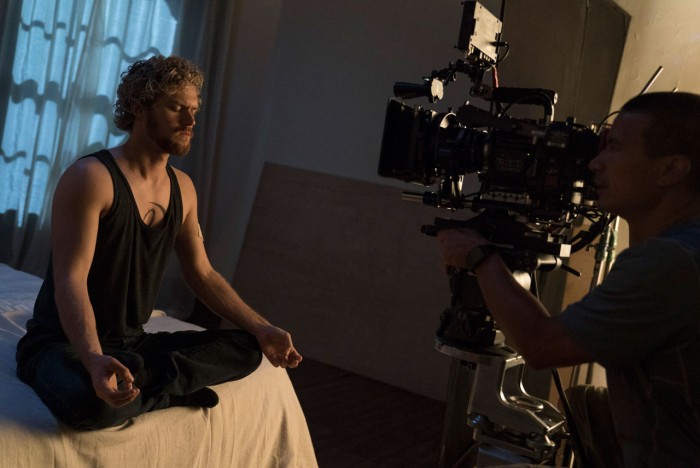 Aw, we're just teasing. Rest assured there is actual action in Iron Fist, as you can see in the behind-the-scenes photos below.
And here are some regular stills to show you what all that hard work will look like onscreen. (The one that has the Empire watermark is via Empire. Obviously.)
Although Iron Fist won't actually debut for a few more weeks, it's already fielded some criticism for its decision to cast a white lead actor. It's not whitewashing, exactly, since Danny Rand is a white guy in the comics — but he's a white guy who travels to a mystical Asian land, undergoes intense martial arts training, and returns to the U.S. as a Chosen One with superpowers. The retrograde racial dynamics of that premise have raised eyebrows, and some fans have even campaigned Marvel to cast an Asian-American actor. While the studio reportedly considered that option, they ultimately went with Game of Thrones alum Finn Jones.
In an interview with Buzzfeed, Jones attempted to address some of those concerns. "I get where that frustration comes from," he said, adding that "there needs to be more diversity in television and film, especially for Asian actors." But he implores viewers to give the show a chance. "With this instance in particular, what I struggle with and what frustrates me is that people are commenting on the headline without understanding the full picture, without understanding the full story," he said. "What you'll find with the way that we're telling this story is we're addressing the issues that people are very concerned about in a very intelligent and modern way."
According to Jones, Iron Fist won't be a white savior narrative:
Danny Rand is not a white savior. Danny Rand can hardly save himself, let alone an entire race of people. He is a very complicated, vulnerable individual. He doesn't just show up, like, 'Hey dudes, I've just learned martial arts! I'm going to save the world.' Actually, it's the complete opposite. He's gone through and suffered immense trauma and he is struggling to claim his own sanity and identity back.
Well, as Jones points out, we'll just have to wait and see how it pans out in the show. Iron Fist might not fit as neatly into the white savior trope as Avatar or Pocahontas does, but it's still part of a larger trend of Hollywood ignoring Asian stars and Asian characters while using Asian culture (or rather, some magical mixed-up version of what they think of as "Asian culture") as exotic window dressing. Hopefully Iron Fist has figured out some way to work around that.
Iron Fist season 1 hits Netflix March 17.