Fox's Mutant Drama Adds 'True Blood' Alum Stephen Moyer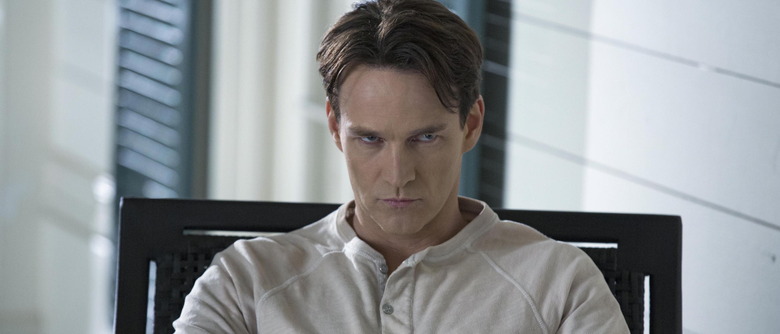 Fox's Marvel mutant drama has recruited a former vampire. True Blood alum Stephen Moyer has just been cast as the lead in the series, joining Jamie Chung and Blair Redford. The kinda-sorta X-Men spinoff centers on a family that goes on the run after the kids are discovered to have superpowers. 
Deadline reports Moyer will play Reed, described as "an ambitious attorney trying to balance the demands of his job at the DA's office with his responsibilities to his family." He and his (yet-to-be-cast) wife are ordinary humans who are surprised to learn that their kids have mutant abilities. With the government out to get them, the family links up with an underground network of mutants to fight for their survival. As previously reported, Chung will have a series regular role as Clarice Fong a.k.a. Blink, a tomboyish type who has the gift of teleportation. Redford will play the "strong-headed Native American leader" of that underground group of mutants.
The as-yet-untitled Fox Marvel drama hails from Burn Notice creator Matt Nix. Bryan Singer is set to direct the pilot. Both will serve as executive producers along with longtime X-Men producers Lauren Shuler Donner and Simon Kinberg and Marvel TV's Jeph Loeb and Jim Chory.
While it's not billed as a direct sequel or spinoff to the existing X-Men movies, Nix has confirmed that his series will be connected to that larger cinematic universe:
I guess I'd say that if you look at the movies, which take place from whatever, they started in 2000 to now... they don't all line up perfectly. You know what I mean? So it's not like, I'm not slavishly fitting myself into a particular slot. But at the same time, if you like that world, if you like the world of the movies, there are definite nods to it. It definitely exists in the same general kind of universe, if that makes sense.
Donner clarified in a separate interview, "Matt's is much more a part of just the world in terms of there are mutants, mutants are hated and there are Sentinels — though very different from what we've seen before. You feel like you're here in the X-Men world." Honestly, X-Men continuity is pretty screwy right now anyway, so that probably just means Nix's show borrows a lot of the same general concepts, themes, and characters from the movies.
Moyer is still best known for playing vampire Bill in HBO's True Blood. Since that series ended in 2014, he's also had a series regular role in Kurt Sutter's short-lived FX drama The Bastard Executioner, and will be seen next month in the Fox event series Shots Fired.