'Okja' Trailer: The Great Bong Joon-Ho Has Made A Creature Feature For Netflix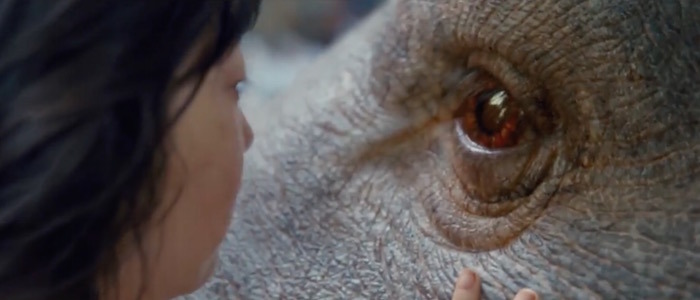 It can sometimes feel impossible to keep up with the original shows and movies Netflix is debuting on their streaming platform, but aside from that (probably profitable) Adam Sandler deal, they have a habit of showing off some pretty good taste. For example, they spent $50 million so the great South Korean filmmaker Bong Joon-ho could make his new movie, Okja. Look, any company interested in being in the Bong Joon-ho business is a company interested in living within the cozy confines of every single movie fan's heart.
Now, the first Okja trailer has arrived and yeah, this looks like something we're going to need to watch on day one.
Okja is Bong's follow-up to Snowpiercer and the two films share a little bit of DNA. Specifically, they both feature a blend of South Korean and Hollywood talent. Even more specifically, they both feature the great Tilda Swinton, who has gone full-chameleon once again with a platinum blonde look. Other recognizable names in the cast include Jake Gyllenhaal, Paul Dano, Giancarlo Esposito, and Lily Collins.
However, the real human lead in Okja seems to be Mija, played by South Korean actress Seo-Hyun Ahn. She's a young girl who befriends a strange creature (seemingly a genetically engineered experiment cooked up by Swinton's character) and goes on an adventure to protect him from being kidnapped by his creators. The last time Bong made a movie with a giant creature at the center of the story, we got the great The Host, a hilarious and merciless monster mash. This appears to be a gentler beast at first glance, but you never can tell what kind of curveball could be thrown our way.
There's not much to that trailer (it's very much an announcement teaser), but the next movie from the director of Memories of Murder and Mother really doesn't need an introduction. The fact that Bong aligned himself with Netflix after they promised him "complete creative freedom" makes this one of the most exciting movies arriving this year.
Okja arrives June 28, 2017. Here's the official synopsis, which suggests that Bong's trademark blend of genre storytelling and societal commentary will once again be in full swing:
From visionary Director Bong Joon Ho, this grand global adventure follows a friendship too big to ignore. Meet Mija, a young girl who risks everything to prevent a powerful, multi-national company from kidnapping her best friend – a massive animal named Okja. Following her across continents, the coming-of-age comedy drama sees Mija's horizons expand in a way one never would want for one's children, coming up against the harsh realities of genetically modified food experimentation, globalization, eco-terrorism, and humanity's obsession with image, brand and self-promotion.