'Smurfs: The Lost Village' Preview: Smurfette And The Gang Explore The Forbidden Forrest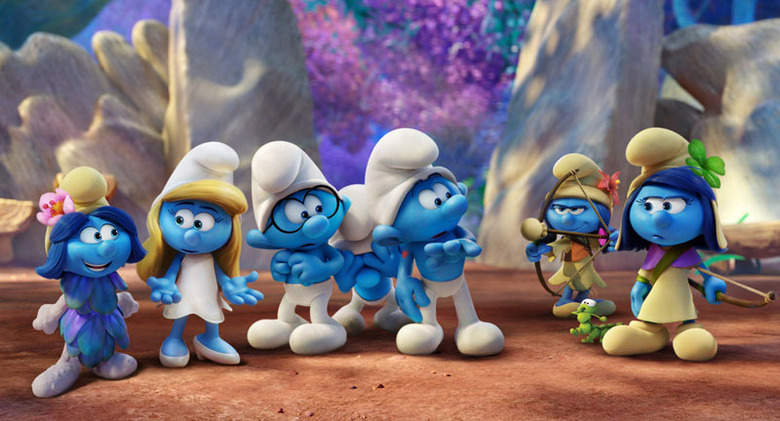 The last two Surfs movies aren't the most memorable kid films out there, but their success – they did great business overseas – proved there's still plenty of love out there for these characters. The little blue humanoids are again starring in a movie, but this time, it's a fully animated feature from director Kelly Asbury (Shrek 2), not another blend of live-action and animation. Smurfette (Demi Lovato), Gargamel (Rainn Wilson), and Papa Smurf (Mandy Patinkin) are back Smurfs: The Lost Village and a new promo has arrived to tease their return.
Here's the set-up: Hefty (Joe Manganiello), Clumsy (Jack McBrayer), Brainy (Danny Pudi), Smurfette, and big Papa Smurf try to reach the lost village in the Forbidden Forrest before Gargamel does. This community, led by SmurfWillow (Julia Roberts), holds something the evil wizard, who was previously played by Hank Azaria, is after. It's also where Smurfette – the sole female Smurf in her village – discovers others like her. Other Smurfs present along for this adventure include SmurfStorm (Michelle Rodriguez), SmurfBlossom (Ellie Kemper), and SmurfLily (Ariel Winter).
Musician Meghan Trainor recorded a song for the film, titled "I'm A Lady," and it's the driving for once this Smurfs: The Lost Village preview:
It's a strangely sluggish promo and not because of the song. Midway through, it starts feeling like a random series of images slapped together as "I'm A Lady" plays. There's not much rhythm to go along with the tune.
The movie itself, on the other hand, continues to look like a step up from the live-action Smurfs movies, which are based on the Belgian comic and television series of the same name. A few weeks ago, Sony showed some clips from the film at a presentation I attended and the footage was light on irony, pop culture gags, and those sort of jokes. The humor was more innocent and playful and character-based. The gags were broad, but not too broad. It was a few degrees below Sony Animation's Hotel Transylvania, if that makes sense.
Here's the synopsis:
In this fully animated, all-new take on the Smurfs, a mysterious map sets Smurfette and her best friends Brainy, Clumsy and Hefty on an exciting and thrilling race through the Forbidden Forest filled with magical creatures to find a mysterious lost village before the evil wizard Gargamel does. Embarking on a rollercoaster journey full of action and danger, the Smurfs are on a course that leads to the discovery of the biggest secret in Smurf history!
Smurfs: The Lost Village will hit theaters on April 7th, 2017.