'American Horror Story' Election Story Won't Feature Trump-Clinton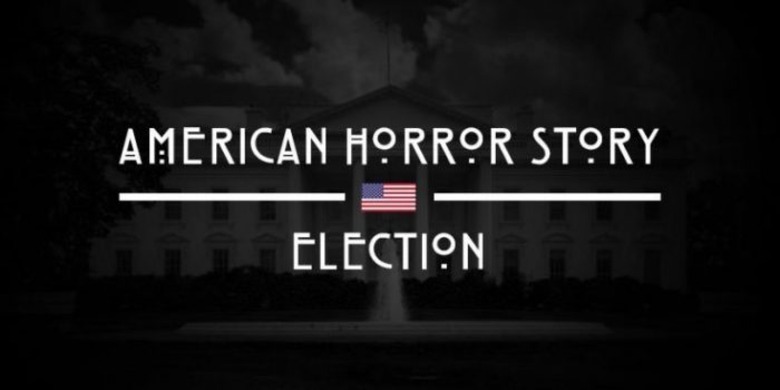 Last month, showrunner Ryan Murphy revealed that American Horror Story season 7 would "be about the election that we just went through." That was an American horror story indeed, but it turns out that the American Horror Story election season will not feature characters inspired by Donald Trump and Hillary Clinton. Learn the details, after the jump.
You might recall that Murphy revealed the American Horror Story election theme during an appearance on Watch What Happens Live.
"Well, I don't have a title," he said, "but the season that we begin shooting in June is going to be about the election that we just went through. So I think that will be interesting for a lot of people."
When host Andy Cohen followed up by asking whether a Donald Trump character would appear the show, Murphy would only respond with "maybe." Well, it looks like that won't be the case at all. During the Publicists Guild Awards Luncheon in Beverly Hills, Murphy clarified (via IndieWire):
"The themes of American Horror Story have always been allegories. You will not see [Donald] Trump and [Hillary] Clinton as characters on the show."
Murphy explained that he'd gotten carried away on Watch What Happens Live, admitting that he may have had too many martinis. That said, he's thinking of giving Sarah Paulson a Kellyanne Conway-inspired part in the new season. Murphy also talked to the Hollywood Reporter about the upcoming seventh season, where he explained the purpose of the story in the days of the Trump administration:
What I'm interested in doing is not just the obvious, single-minded point of view but rather express all sides of that equation. What needs to happen in our country now is for people to listen to each other – we may not always agree with each other and we may be horrified by what the other side is doing but we have to move toward understanding. So that's one example of what I'm going to do. And then all of the stuff that I'm developing now is going to be about illuminating and highlighting people who don't have a voice in our culture – people who are ignored by the current administration and who are afraid and feel terrorized that their lives are going to be taken away. I'm interested not just in writing about those people but also in using my financial means to give back to them as well.
I get where Murphy is coming from, but I would have been interested to see how he would have translated the Trump/Clinton election to a season of American Horror Story.
Better yet, I would have much rather seen the 2016 election play out on Murphy's American Crime Story anthology series. I'm not sure what would be the crime at the center of this election — the Russian hacks? — but I do think the story would have fit thematically with The People vs. OJ Simpson and the upcoming Katrina season. Unfortunately, we probably don't have enough perspective and inside information about what happened at this point to make a great miniseries. It took over two decades to turn the OJ Simpson trial into a fantastic series (and a now Oscar-winning documentary), so maybe we'll have to wait a couple of decades for American Crime Story: The Trump/Clinton 2016 Election.