'Guardians Of The Galaxy Vol. 2' Trailer Tease: The Problem With Drax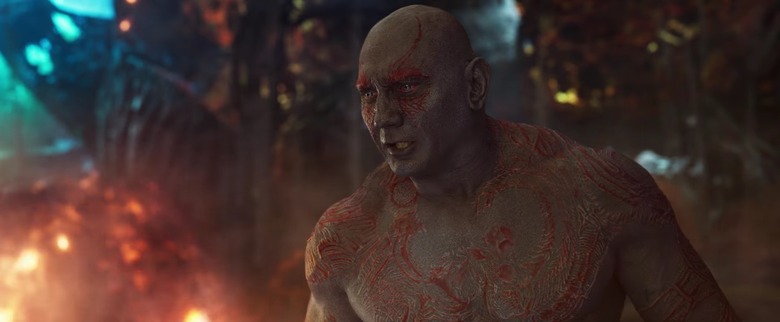 The Guardians' biggest concern may be protecting the galaxy, but in between all those big, flashy action setpieces, they're still dealing with the same kind of low-level drama that you or I might have with our colleagues. Like in the new Guardians of the Galaxy Vol. 2 trailer tease. The group's got a problem with Drax, but it's got nothing to do with his tragic past or fearsome fighting prowess or even his overly literal linguistic style. It's something much more mundane — and much more annoying. Watch the video below to see what I'm talking about.
Guardians of the Galaxy Vol. 2 Trailer Tease
Tomorrow – get ready. Obviously. #GotGVol2 pic.twitter.com/8CM4MFfpW4

— Marvel Entertainment (@Marvel) February 27, 2017
Yeah, it turns out Drax is one of those people who slurps and chews really, really loudly. It might seem like the least of their worries in the moment, but as anyone who's ever shared office space with a sloppy eater can attest, that doesn't make the habit any less obnoxious. At least the Guardians are out in the open with him, and not crammed inside a tiny cubicle where there's no escape. I bet Drax would also be the kind of co-worker who heats up tuna and eggs in the microwave, leaving a nice pungent smell behind for the next person to deal with.
Of course, the really big news here is that there's a new Guardians of the Galaxy Vol. 2 trailer coming tomorrow. We don't know if this clip will be included, but now you don't have to wait to find out about Drax's table manners (or lack thereof). What we really want to know, though, is whether this will feature our first real look at the film's most mysterious major character, Ego the Living Planet (Kurt Russell). So far, we've only seen him in toy or box art form, but with the release date just two months away we can probably expect that to change soon.
Guardians of the Galaxy Vol. 2 drops May 5.
Set to the backdrop of 'Awesome Mixtape #2,' Marvel's Guardians of the Galaxy Vol. 2 continues the team's adventures as they traverse the outer reaches of the cosmos. The Guardians must fight to keep their newfound family together as they unravel the mysteries of Peter Quill's true parentage. Old foes become new allies and fan-favorite characters from the classic comics will come to our heroes' aid as the Marvel cinematic universe continues to expand.