'Beauty And The Beast' Oscars TV Spot Teases A Tale As Old As Time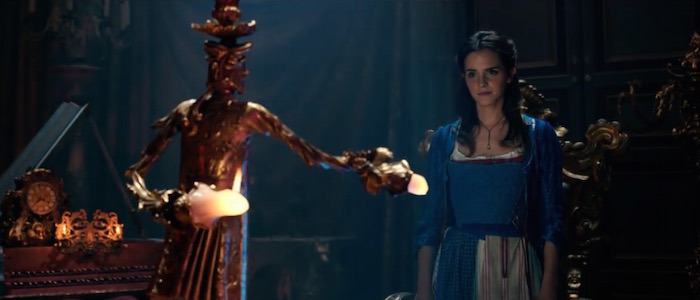 Disney's recent habit of treading on hallowed ground has resulted in a mixed bag of movies. Cinderella got the job done, telling a straightforward princess story with the appropriate amount of gloss, but Maleficent and Alice in Wonderland were both...let's just be polite and say "not as creatively successful." However, I have a good feeling about Beauty and the Beast, albeit a good feeling tinged with a little bit of anxiety because they're remaking my favorite animated Disney movie. The 1991 original is just about perfect in every way.
A new TV spot debuted during the Academy Awards last night and the new Beauty and the Beast footage sure does look like...Beauty and the Beast.
By now, you're probably familiar with the key players here. Emma Watson is Belle, the beautiful bookworm who falls in love with a cursed prince. Dan Stevens is the Beast, that prince who was turned into a monster because he was a total jerk back in the day. Condon, the frequently unpredictable and sometimes genius director of Gods and Monsters, Kinsey, Dreamgirls, Mr. Holmes, and the (shockingly underrated and in desperate need of a written defense from a person crazy enough to put pen to paper) final two Twilight movies, is behind the camera.
From the footage we've seen so far, it certainly seems like Condon isn't fixing anything that isn't broken (even though I'm not entirely sure how I feel about some of the living object designs). The most important thing to note is that he has clearly gone full-musical, embracing the Broadway-friendly structure of the original movie.
Backing up those two central lovebirds are Kevin Kline as Belle's father, Luke Evans as the pompous villain, Gaston, and Josh Gad as Gaston's toady, Le Fou. The voices of the Beast's various living household objects are provided by the likes of Ewan McGregor, Ian McKellen, Emma Thompson, Stanley Tucci, and Gugu Mbatha-Raw.
Beauty and the Beast is set to open on March 17, 2017. It certainly looks like it is going to make a whole bunch of money.