'Bright' Trailer: Netflix Surprises With Will Smith Fantasy Crime Movie During Academy Awards

Netflix's original content line-up is unmatched. The streaming service has been killing it with their original television releases for a few years now, and we are just beginning to see them dip their toes in the original feature film realm.
One of the first big films is Suicide Squad director David Ayer's crime sci-fi fantasy film Bright, written by Chronicle screenwriter Max Landis and starring Will Smith, Joel Edgerton, Noomi Rapace, Edgar Ramírez, Ike Barinholtz and Brad William Henke. Netflix surprised people watching the Academy Awards last night with a first look at the new film. Watch it again, after the jump.
Netflix's Bright Trailer
So, you might be wondering what the hell is going on in this Bright TV spot. The film's story has been described as a mix of Ayer's own 2012 gritty cop film End of Watch and the 1988 sci-fi movie Alien Nation, which was about a human and an alien cop forced to work together. Bright is set in a world where "magical creatures live side by side with humans and the police have a division handling crimes involving magic." Will Smith plays a human cop who is forced to work with an Orc (played by Joel Edgerton) to find something that "unsavory elements are prepared to kill for — a powerful wand."
Before ending up at Netflix, Bright was shopped as a $80 million-$100 million budget theatrical feature film, but the production commitment requirement was something that kept most studios at bay. One studio was apparently ready to greenlight the film at $55 million, but that offer was rejected. After a two-week bidding battle, Netflix won after committing a reported $90 million, which included paying Landis $3 million for the script and a $45 million film production budget.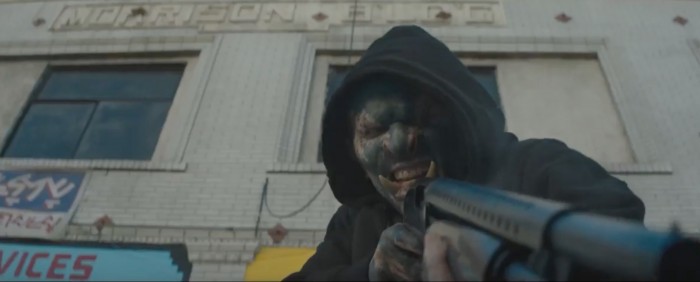 With the Academy Award TV spot, Netflix is announcing that the film will be released in December 2017. Judging by the end of the spot, it seems like Netflix will be forgoing a traditional theatrical release.
The big name talent is very interesting, but the positioning of Orcs in a gritty crime movie feels ridiculous. I'm interested to see more, but I wonder if many Netflix subscribers will see past the strange fantasy imagery when they're scrolling through the binge-worthy television series in which they are already invested. Then again, Adam Sandler's films apparently do very well on the service, so maybe I'm assuming too much.
Bright will premiere on Netflix sometime in December 2017, offering a home movie experience alternative to the likes of Star Wars: The Last Jedi and Jumanji.