2017 Oscar Winners Live-Blog: The 89th Academy Awards Results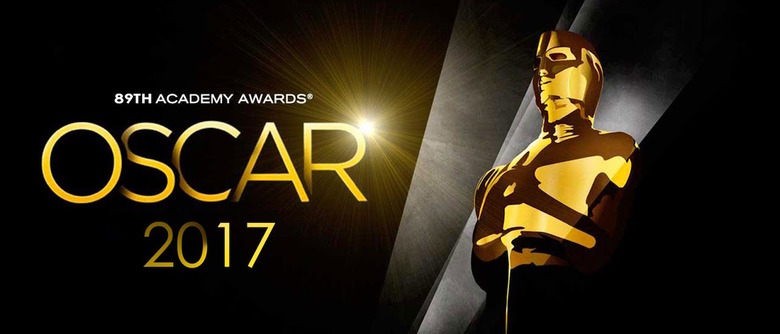 All that planning and campaigning and prognosticating, all that prayer and sweat and blood — they've all been leading up to this. Tonight, the Academy of Motion Picture Arts and Sciences presents the 89th Academy Awards, hosted by Jimmy Kimmel. As usual, there are plenty of smug know-it-alls out there who think they know exactly how this is all going to shake out; as always, you can count on there being a few surprises thrown into the mix.
We'll be updating live as the results are announced, so follow along with our 2017 Oscar winners live-blog below. 
8:30 PM: OK, here goes! Good luck with your Oscar pools, everyone!8:48 PM: And the first award of the night goes to...Actor in a Supporting RoleMahershala Ali, Moonlight
Jeff Bridges, Hell or High Water
Lucas Hedges, Manchester by the Sea
Dev Patel, Lion
Michael Shannon, Nocturnal Animals 
Commentary: Ali's been the frontrunner all through awards season, so his win here hardly comes as a surprise. Still, it's well deserved — and a rare instance of the Academy awarding a performance that isn't especially showy.
Makeup and HairstylingA Man Called OveStar Trek BeyondSuicide Squad
Commentary: Sorry, Deadpool — this year's big Academy Award-winning superhero movie has turned out to be Suicide Squad.
Costume DesignAlliedFantastic Beasts and Where to Find ThemFlorence Floster JenkinsJackieLa La LandDocumentary FeatureFire at SeaI Am Not Your NegroLife, AnimatedO.J.: Made in America13th9:24 PM: As my colleague Jacob Hall just pointed out to me, we are one hour into this and we've only given out three awards.9:25 PM: And yet, a break to hand out candy to these poor underfed celebrities. Move it along, Jimmy!Sound EditingArrivalDeepwater HorizonHacksaw RidgeLa La LandSullySound MixingArrivalHacksaw RidgeLa La LandRogue One: A Star Wars Story13 Hours
Commentary: Surprisingly, that makes three awards so far that La La Land was up for but did not win. But fret not — they've still got a really strong shot in the 11 other categories they're nominated for.
Actress in a Supporting RoleViola Davis, Fences
Naomie Harris, Moonlight
Nicole Kidman, Lion
Octavia Spencer, Hidden Figures
Michelle Williams, Manchester by the Sea
Commentary: Going into tonight, the only thing surer than Ali's Best Supporting Actor win for Moonlight might've been Davis' Best Supporting Actress win for Fences. No big shock here. But goodness, what a well-deserved win. I'm still not entirely sold on the notion that this was a "supporting" role instead of a "lead" one (and were she in the lead category, I'd still be rooting hard for her), but it's tough to deny the power of her performance.
Foreign Language FilmLand of MineA Man Called OveThe SalesmanTannaToni ErdmannAnimated Short FilmBlind VayshaBorrowed TimePear Cider and CigarettesPearlPiper
Commentary: Pixar gets nominated all the time, but this is their first actual win in the category since 2001 (For the Birds).
Animated Feature FilmKubo and the Two StringsMoanaMy Life as a ZucchiniThe Red TurtleZootopia
Commentary: This was always going to be a toss-up between Zootopia and Moana. The latter might be a slightly better movie, but the former feels more relevant right now.
Production DesignArrivalFantastic Beasts and Where to Find ThemHail, Caeasar!La La LandPassengers
Commentary: La La Land's first win (of many, I'm sure).
Best Visual EffectsDeepwater HorizonDoctor StrangeThe Jungle BookKubo and the Two StringsRogue One: A Star Wars StoryFilm EditingArrivalHacksaw RidgeHell or High WaterLa La LandMoonlight
Commentary: I don't think anyone expected this. And while "Best Film Editing" might not sound like the sexiest category, it's widely considered an indicator of how Best Picture will go. Could Hacksaw Ridge pull a stunning upset and win the night? I'm not saying it's likely to happen... but it suddenly seems a lot more plausible than it did a few minutes ago.
Documentary Short SubjectExtremis4.1 MilesJoe's ViolinWatani: My HomelandThe White HelmetsLive Action Short FilmEnnemis InterieursLa Femme et le TGVSilent NightsSingTimecodeCinematographyArrivalLa La LandLionMoonlightSilence
11:02 PM: I'm starting to feel like Jimmy Kimmel never wants this show to end.
Original ScoreJackieLa La LandLionMoonlightPassengersOriginal Song
"Audition," La La Land
"Can't Stop the Feeling," Trolls
"City of Stars," La La Land
"The Empty Chair," Jim: The James Foley Story
"How Far I'll Go," Moana
Commentary: The question in this category wasn't whether La La Land would win, but which La La Land song would win. Sadly, this means Lin-Manuel Miranda remains one O short of an EGOT.
Original Screenplay
Taylor Sheridan, Hell or High Water
Damien Chazelle, La La Land
Yorgos Lanthimos and Efthymis Filippou, The Lobster
Kenneth Lonergan, Manchester by the Sea
Mike Mills, 20th Century Women
Commentary: I'm thrilled about this one. Manchester started the awards season looking like a frontrunner before dropping back into the middle of the pack, but Kenneth Lonergan absolutely deserves recognition for his incredible work here.
Adapted Screenplay
Eric Heisserer, Arrival
August Wilson, Fences
Allison Schroeder and Theodore Melfi, Hidden Figures
Luke Davies, Lion
Barry Jenkins and Tarell Alvin McCraney, Moonlight
Commentary: Another wonderful win! And (as befits two men who just won a prize for being good with words) their speeches were pretty great, too.
Directing
Denis Villeneuve, Arrival
Mel Gibson, Hacksaw Ridge
Damien Chazelle, La La Land
Kenneth Lonergan, Manchester by the Sea
Barry Jenkins, Moonlight
Commentary: 32-year-old Damien Chazelle is now the youngest Best Director winner of all time.
Actor in a Leading RoleCasey Affleck, Manchester by the Sea
Andrew Garfield, Hacksaw Ridge
Ryan Gosling, La La Land
Viggo Mortensen, Captain Fantastic
Denzel Washington, Fences
Commentary: Casey Affleck seemed to lose momentum in recent weeks (perhaps in part to those sexual abuse allegations), and many predicted Denzel Washington would take this one. But Affleck managed to pull ahead when it counted most.
Actress in a Leading Role
Isabelle Huppert, Elle
Ruth Negga, Loving
Natalie Portman, Jackie
Emma Stone, La La Land
Meryl Streep, Florence Foster Jenkins
Commentary: It's almost funny to remember that Ruth Negga and Isabelle Huppert looked like frontrunners back in December — since January, Best Actress has been Emma Stone's to lose. She didn't lose.
12:02 AM: OK, just one more category! Let's do this.
Best PictureArrivalFencesHacksaw RidgeHell or High WaterHidden FiguresLa La LandLionManchester by the SeaMoonlight
Commentary: It's surprising enough that Moonlight beat out La La Land for Best Picture, but Moonlight getting announced as Best Picture only after La La Land was incorrectly announced as the winner is the craziest thing I have ever seen at an Oscars ceremony. We will be talking about this moment for decades to come.