Nicholas Hoult Is Pretty Sure He's Coming Back For 'X-Men: Supernova'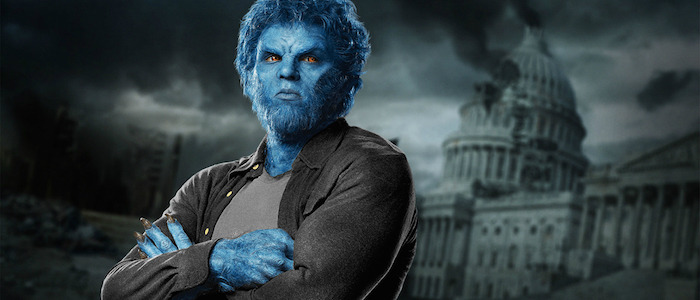 There are days when the nonsensical continuity of the X-Men movies makes me want to throw my hands up in the air and move into the desert and stop writing about comic book movies and there are days where I just shrug it all off because I'll always take interesting experiments like Logan, Legion, and Deadpool over a coherent universe. Today, I feel like the latter, so it's just amusing that Nicholas Hoult, who has starred in three X-Men movies, is only pretty sure that he's in the next film that's supposed to begin production this year. It's good to know that the actors, like audience members, also aren't quite sure what's going on.
Hoult's comments come to us from HeyUGuys, who interviewed him about his work in the upcoming thriller, Collide. There are no scorching details here, just a very good actor saying that yes, he's pretty sure Hank McCoy, AKA, the furry mutant superhero Beast, is back for X-Men: Supernova:
I think I'm involved. I'd be happy to go back – I love playing that character and I love everyone involved and I know there's one in the works...
While director Josh Boone is charging ahead with his New Mutants movie, the next core X-Men movie (which may or may not be subtitled Supernova because who knows anything right now?) is still very much a mystery. The only person who has publicly said that they're in it is Sophie Turner, who played Jean Grey in X-Men: Apocalypse:
We're about to start shooting the next X-Men. We've just finished shooting Season 7 of [Game of] Thrones, and I've got a couple of movies to do before X-Men starts. And then we go on to Season 8. So I've got a busy year lined up.
Hoult's comments arrive shortly after the news that veteran X-Men franchise writer and producer Simon Kinberg is looking to make his directorial debut on Supernova. And speaking of that tidbit, Fandango's Erik Davis reports that Kinberg has not landed the job. At least not yet:
Just spoke to Simon Kinberg, who said reports of him directing the next X-Men movie are still premature. Not official yet

— Erik Davis (@ErikDavis) February 24, 2017
Davis also reports that Kinberg could not respond to rumors that Supernova would adapt the famous "Dark Phoenix Saga" storyline, where Jean Grey becomes possessed by the cosmic "Phoenix Force," becomes all-powerful, and falls from grace (AKA, a bunch of bad stuff happens to everyone). A half-baked version of this plot was seen in X-Men: The Last Stand, but it's easy to imagine the new movie taking it on again and trying to do it justice, especially since Turner's Jean Grey is back and especially since the rumored subtitle is Supernova.
Once Logan has opened and the movie news beast needs to be properly fed again, we'll surely hear something official about X-Men: Supernova (or whatever it's going to be called).