'Diary Of A Wimpy Kid: The Long Haul' Trailer: The Family Film Franchise Gets A New Cast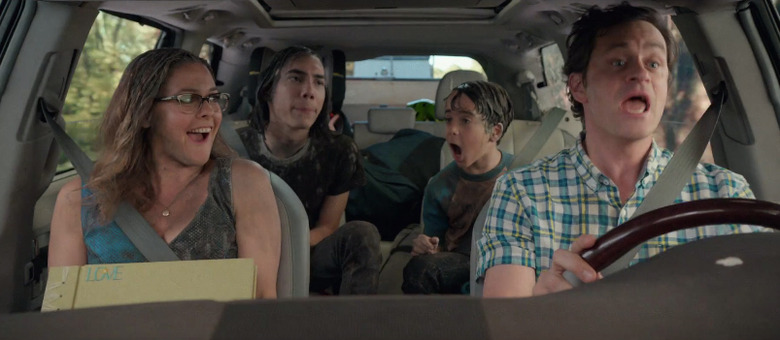 The Diary of a Wimpy Kid film franchise was one that families enjoyed for three years – there was Diary of a Wimpy Kid in 2010, Diary of a Wimpy Kid: Rodrick Rules in 2011 and Diary of a Wimpy Kid: Dog Days in 2012. But it's been five years since the last movie, so the young cast members who played lead characters Greg (Zachary Gordon) and his best friend Rowley (Robert Capron) are too old to keep the series going. That means we're basically getting a franchise reboot with a whole new cast.
Diary of a Wimpy Kid: The Long Haul continues to follow the adventures of Greg Heffley (now played by Jason Drucker) and his whole family, including his brother Rodrick (Charlie Wright), mother Susan (Alicia Silverstone), father Frank (Tom Everett Scott), and baby brother Manny (played by twins Wyatt & Dylan Walters). Oh, and Rowley is still around, this time played by Owen Asztalos.
Watch the Diary of a Wimpy Kid The Long Haul trailer below to see how the new cast works out.
I must say, it's strange seeing Clueless star Alicia Silverstone begin to take roles as the mother of teenage kids in movies now, but that's just how life works. At least she's getting work in actual movies like this and not slumming it in Lifetime originals or cheesy faith-based dramas.
It seems the Diary of a Wimpy Kid franchise has gotten a little goofier as time has gone on. Early on, it almost felt like a live-action incarnation of Doug, albeit with some silly childish humor (after all, this is mostly for kids). Then it continued to get goofier. That's fine when the demographic is still kids, but most of the kids who grew up on the books probably aren't as interested in movies like this anymore.
This time, Greg and his brother Rodrick get a little bold by taking the family car out without permission in order to attend a video game expo in Indianapolis. I'm pretty sure there's never really a video game expo in Indianapolis, though the gaming convention Gen Con does happen there each year. Of course, their parents find out, they get in trouble, there's road trip shenanigans and all that stuff.
That doesn't seem to be the bulk of the story though, because the synopsis says this:
In Diary of a Wimpy Kid: The Long Haul, based on the record-breaking book series, a family road trip to attend Meemaw's 90th birthday party goes hilariously off course–thanks to Greg's newest scheme to (finally!) become famous.
The film adaptations of the books have always combined several stories from multiple books into a single movie, and that appears to be what's happening here too. Fans will find out what other stories end up in this movie when Diary of a Wimpy Kid: The Long Haul hits theaters on May 19.