'Nightwing' Movie Added To DCEU Slate; 'Lego Batman' Director Chris McKay In Talks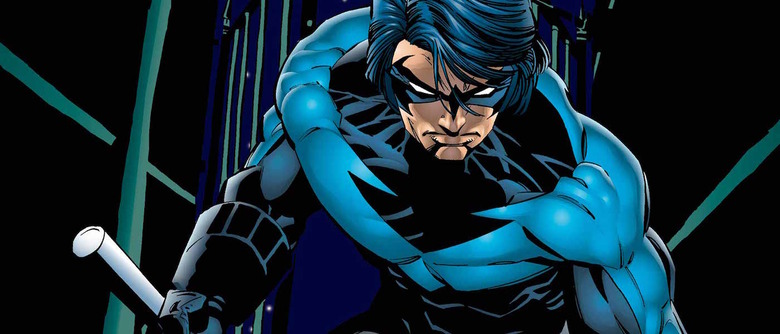 Dick Grayson will be following his famous mentor right into the DC Extended Universe. Warner Bros. is plotting a Nightwing movie, with Chris McKay in talks to direct. McKay actually has some very recent experience with the character: he last helmed The Lego Batman Movie, which prominently featured Dick Grayson (voiced by Michael Cera) as Batman's overeager sidekick. 
THR broke news of the live-action Nightwing movie. Bill Dubuque, whose credits include Ben Affleck's The Accountant and Robert Downey Jr.'s The Judge, has been tapped to write the script. The project is expected to fit within the DCEU, but it's not clear yet where this movie will fit into the timeline. (It's established in Batman v Superman that Jason Todd has died, but Dick Grayson is never mentioned.) Nor do we know when it'll be released in theaters, though Warner Bros. does have several dates earmarked for DC movies between now and 2020.
Nightwing is the newer, more grown-up alter ego of Dick Grayson, who was the first in a long line of Robins in the comics. He hails from a family of acrobats known as the Flying Graysons, but became an orphan at a young age when his parents were killed in front of him. (Sound like someone else we know?) Batman takes him in and trains him to become his crime-fighting partner. As he got older, he shed the Robin mantle to establish himself as a full-fledged superhero in his own right.
It's maybe worth pointing out that Dick has taken over the Batman identity from time to time when Bruce Wayne has been unavailable. Who knows if this aspect of his story will carry over into his big-screen adaptation... but I will point out that with the DCEU's current Batman looking pretty old and Affleck rumored to want out, it'd probably be a wise move on DC's part to set up a character who could eventually replace him. Theoretically speaking, I mean. If you don't mind some wild speculation on my part.
Although Warner Bros. has only actually released three DCEU movies to date (Man of Steel, Batman v Superman, and Suicide Squad), they've got many more in the works for the next few years — including Wonder Woman and Justice League later this year, Aquaman next year, and The Flash, Cyborg, Shazam, Green Lantern Corps, Gotham City Sirens, Suicide Squad 2, and The Batman sometime after that.
McKay's background has mostly been in animation. He was the animation supervisor on The Lego Movie and made his feature directing debut on The Lego Batman Movie. Prior to that, he worked on shows like Moral Orel, Titan Maximum, and Robot Chicken.