'American Gods' Premiere Date Revealed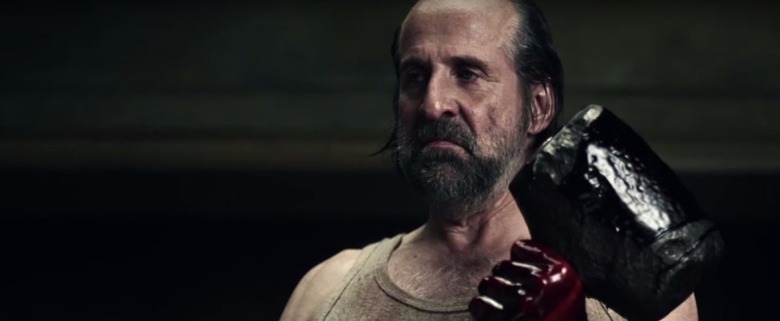 Shadow Moon (Rick Whittle) and Mr. Wednesday (Ian McShane) are about to hit the road, as Starz has just confirmed the spring premiere date. The ex-convict and God will bump into some old and new gods on their long journey, which comes from showrunners Bryan Fuller (Hannibal) and Michael Green (Heroes). Before airing on Starz, the adaptation of Neil Gaiman's novel will premiere next month at SXSW in Austin, Texas.
Below, learn more about the fantasy drama.
After getting out of jail and learning about the death of his wife, Laura (Emily Browning), and that he no longer has a job working with his "buddy" Robbie (Dane Cook), Moon gets hired by Mr. Wednesday, a god disguised as a con man. With the help of the strong, resourceful, and stoic Mr. Moon, Mr. Wednesday embarks on a road trip to convince a few old deities to join the brewing war between the old gods and the new. Gaiman rooted the old gods in mythology, while the pesky new gods are based on modern obsessions, such as money, celebrity, technology, and media (Gillian Anderson).
The series co-stars Cloris Leachman, Orlando Jones, Pablo Schreiber, Crispin Glover, and — perfect casting – Peter Stormare as Chernabog, who makes a funny deal with Shadow involving his sledgehammer. Starz provided the first trailer for the series at Comic-Con, which was when Kristin Chenoweth signed on to play Easter. Starz announced today that the show will premiere Sunday, April 30 at 9 PM on Starz.
To refresh your memory, here's the American Gods trailer from last summer:
Seeing Ian McShane in the trailer again reinforces the opinion of how right he is for Mr. Wednesday. Well before the charming and eloquent actor (he truly can make the dirtiest of words sound pretty) was even cast in the role, fans of Gaiman's novel deemed him a good fit for Mr. Wednesday. It looks like he's captured the allure, sadness, and humor of the character, but we'll see for sure in two months. The pilot and two other episodes are directed by the show's executive producer David Slade (Hard Candy), who worked with Fuller on Hannibal.
Here's the synopsis:
American Gods been translated into over 30 languages and earned numerous accolades including Hugo, Nebula and Bram Stoker Awards for Best Novel. The plot posits a war brewing between old and new gods: the traditional gods of mythological roots from around the world steadily losing believers to an upstart pantheon of gods reflecting society's modern love of money, technology, media, celebrity and drugs. Its protagonist, Shadow Moon, is an ex-con who becomes bodyguard and traveling partner to Mr. Wednesday, a conman but in reality one of the older gods, on a cross-country mission to gather his forces in preparation to battle the new deities.