'Their Finest' Trailer: This Is Not The Movie About Dunkirk You're Waiting For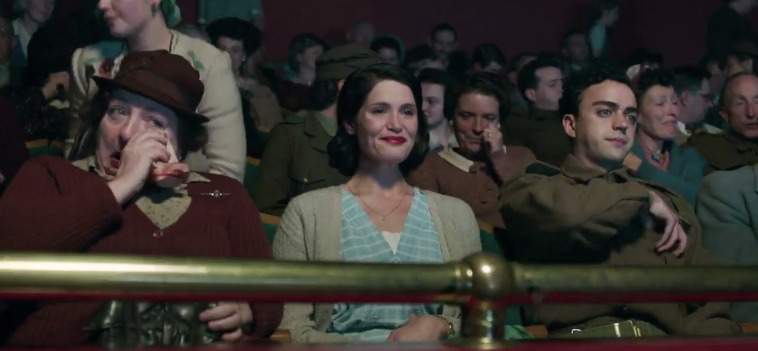 Hollywood loves making movies about making movies, and even though Lone Scherfig's World War II romantic dramedy Their Finest actually hails from across the pond, it's still looking for that sweet spot of nostalgia for classic filmmaking crossed with the hardships of war.
After playing at the Toronto International Film Festival last year and the Sundance Film Festival just last month, Their Finest follows the making of a movie about the heroic events of a couple sisters at Dunkirk who save hundreds of soldiers. Sadly, it's not anywhere near as compelling as we hope Christopher Nolan's movie about Dunkirk will be, but Their Finest is coming to US theaters this spring, delivering lighthearted laughs, sappy romance, and stilted war drama. Watch the new Their Finest trailer after the jump to get a taste of the film.
Their Finest is one of those movies that I wouldn't call awful, but it has more than a few problems. The biggest shortcoming that the film has is an awkward balance between the charming classic showbiz comedy, almost along the lines of Hail Caesar!, and the war drama that's intended to bring some gravity to the proceedings. There are two drastically different tones at work, and neither complements the other very well.
It's truly a shame that Their Finest can't find solid ground to stand on, because it's full of some pretty great performances. Gemma Arterton does a fine job in the lead as a screenwriter tasked with writing the "slop" for a movie intended to boost morale for the war efforts in London, while Sam Claflin is solid as her charming love interest, a seasoned screenwriter who can be a bit uppity.
But the real performance compliments go to Bill Nighy and Jake Lacy, who steal every single scene they're in. Nighy masterfully and hilariously plays an aging actor who isn't quite self-aware enough to know he's a fading star. Lacy plays a handsome soldier recruited to give an American presence in the film, but is a little too dimwitted to be any good at acting, despite his handsome face. They're both just great in the movie, even if they contribute to the stark contrast that makes it feel less cohesive as a narrative.
You can watch the previous Their Finest trailer right here to see more.
Set in 1940 London, the story follows Catrin (Gemma Arterton), an untried screenwriter who, alongside a makeshift cast and crew, work under fire to make a film to lift the nation's flagging spirits; and inspire America to join the war. Partnered alongside fellow screenwriter, Buckley (Sam Claflin) and eccentric actor Ambrose Hilliard (Bill Nighy), the trio set off to make a film that will warm the hearts of the nation and capture the imagination of the American population.
Their Finest opens on April 7.