Interview: 'Get Out' Director Jordan Peele On His Filmmaking Debut & The Power Of Story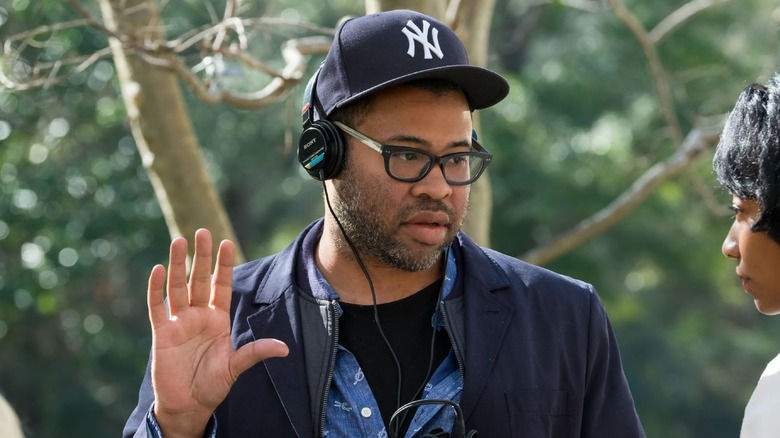 With his directorial debut, Get Out, Jordan Peele exhibits remarkable range as a writer and director. His film, which comes from Blumhouse Productions, works on multiple levels. Whether he's nailing a laugh or a scare, shooting an intimate scene between a couple by a lake, or just delivering the unexpected, Peele hardly feels like a rookie in the director's chair.
He started writing Get Out three years ago, but his journey towards getting behind the camera has been a long time coming. The co-creator of Key & Peele has been dreaming of helming a movie for many years. Now, he finally has done it with a thoughtful thriller that's always slyly moving at full speed towards an unforgettable third act.
Below, check out our Jordan Peele interview.
What were your expectations going into your directorial debut? 
Well, I'd heard it's one of the hardest things to do in the world, and that's right. It is extremely tough and emotionally draining. At the same time, it was such a riveting adventure, and creatively, I've never felt so alive.
Was there a specific moment that made you want to direct? 
Nah, bro. It was always a dream, and as the sort of comedic path of my career took off, it sort of felt like it wasn't meant to be. Then, you know, several years ago, after I left MADtv, sort of faced with this question of, "Okay. Well, now what?" The dream of getting good enough to write and possibly direct became front and center for me, and I still sort of didn't know that it was possible, but I knew I wanted to get somewhere as a writer at least and explore the possibilities. So I really did open up a handful of projects that are in a similar tone of an entertaining social thriller.
Out of all those projects, what made you want to make Get Out your first movie? 
My process was sort of work on this idea and then when I hit a wall with this idea, moved on to this next idea, and sort of rinse and repeat. So at some point, you're sort of juggling these ideas, and one of them just emerges as the thing that makes the most sense, and that was Get Out. It became clear first.
When you started writing, was the story clear in your head or did it evolve over many drafts?
Both. I had, I would say, probably 90-95% of the story fairly clear. The first time I actually put pen to paper to write this script was three years ago, so the whole idea was marinating for awhile. Then in the shooting of the movie and the drafts that went into shooting it, the last 5, 10% sort of came together.
I pitched the movie before I wrote it, and I pitched the movie as you see it, except for a couple of real distinct differences. But that's my style. I only actually put pen to paper when I know the big picture.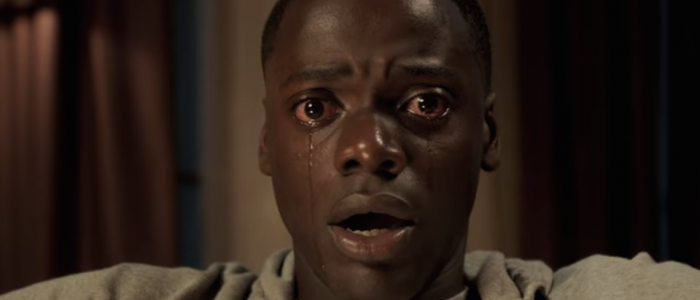 Once you finished it, where did you go from there? How did it end up at Blumhouse?
The process started with QC Entertainment, and it was really a meeting where I legitimately thought this movie would never get made. I knew it was a cool story, but, you know, I wrote it for the fun of writing it, so when I told Sean McKittrick at QC the plot, I was very surprised to hear him say, "Hey, let's make it." About a year later, several other companies got wind of it and expressed interest. Out of those, Blumhouse was the clear partner for it. They've been successful with genre-pushing, social, horror with movies like The Purge, and also what they did with Whiplash, which is very elevated, obviously. We were just very honored and excited to work with Blumhouse, who just has such a great track record of letting the auteur make their movie, and then hooking it up with a Universal release, which is sort of a dream come true for a horror movie.
I spoke with [actor] Daniel Kaluuya about the sunken place sequences, and he said how that image captures what it feels like to be black and how you can't always say what you want. 
Yeah.
How else did you want to visualize some of Get Out's ideas and themes? 
Yeah, you know, as far as the visual motifs of the film, one of the themes is neglect. It is that which we sort of stuff to the back of our minds. One of the satirical but, I think, powerful notes that the movie hits is this idea of being in a dark room where there is a reality happening on a screen in front of us, and you can yell and you can scream and you can shout, but you're not going to change what happens in that world on that screen. That to me is a metaphor for, amongst other things, the lack of representation of black people and a black perspective in a horror film, a genre that black people are very loyal to. Of course, you know the stereotype of going to a black theater and watching and hearing the black audience yelling, "Get out. Turn around. Bitch, call the cops." That to me, in essence, is a form of the sunken place, which is in the movie. It is a de-marginalization, so that's just one, but there's a lot of layers going on.
I think what the movie has to say is effective because the movie is always entertaining. Do you have a hope for Get Out beyond entertaining audiences? 
I think you identified one of the reasons I feel like it's an important piece of the puzzle to get representation in genre, in entertaining movies is just that. We can discuss race all day long, but if you see a movie that successfully puts yourself in the shoes of somebody different than yourself, you see the world differently, so I think the power of story is greater than the power of conversation in a way.
***
Get Out opens in theaters February 24th.