'Rogue One: A Star Wars Story' Will Hit Digital HD In March, Blu-Ray And DVD In April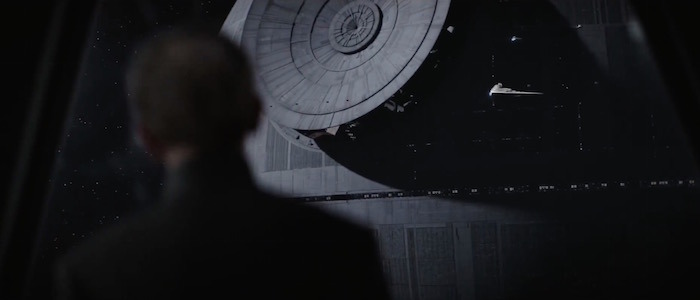 If the worldwide box office is any indication, just about everyone reading this sentence has already seen Rogue One: A Star Wars Story. Heck, many of you have probably seen it several times. And pretty soon, you'll be able to watch it until your heart's content, because Disney has officially announced the home video release date for the first Star Wars spin-off and it's arriving soon.
Rogue One will become available on digital HD on March 24, 2017, with physical Blu-ray and DVD copies arriving on April 4, 2017. This aligns with all of the early rumors suggesting a late March or early April arrival date – they're just splitting the difference.
The initial announcement arrived on the latest episode of The Star Wars Show and you can skip ahead to the 1:50 mark in the video below for details. They also list off some of the special features that will be on the disc – featurettes include "A Rogue Idea," which takes a look at John Knoll's original pitch, "Visions of Hope," about the design choices seen in the film, and "The Princess and Governor," which will examine the digital recreations of certain iconic Star Wars actors.
The announcement also comes with a new trailer, which provides the release dates and teases a few special features. The most amusing thing about this video is how it utilizes extensive footage from scenes that were kept out of the original trailers at all costs, including shots from a major character's death scene. The marketing is very aware that you've already seen this movie and it's gently nudging you, saying "Remember that part? That was cool and dramatic, right? You want to see that again, right? You want to have that on your shelf, right?"
And not to brag, but the trailer also features a quote from our own Peter Sciretta, where he describes the film as "edge-of-your-seat thrilling" (you can read his full review here, if you desire).
Because this is such a beautifully made movie, this disc feels like a must-own just so I can give my television and speakers a workout. Hopefully, the special features will offer something worthy of exploration, especially since the initial home video release of Star Wars: The Force Awakens was a bit of a dud in that department. Here is the complete list of features (via StarWars.com) that will be included on the Rogue One home video release:
A Rogue Idea – Hear how ILM's John Knoll came up with the movie's concept – and why it's the right film to launch the Star Wars stand-alone films.
Jyn: The Rebel – Get to know Rogue One's defiant, resourceful survivor, and hear what it was like for Felicity Jones to bring her to life onscreen.
Cassian: The Spy – Diego Luna shares insights into his complex, driven character, who becomes a hero through selflessness, perseverance and passion.
K-2SO: The Droid – Explore the development of this reprogrammed Imperial droid, from initial pitch and character design through Alan Tudyk's performance.
Baze & Chirrut: Guardians of the Whills – Go deeper into the relationship between these two very different characters, with Chinese superstars Jiang Wen and Donnie Yen.
Bodhi & Saw: The Pilot & The Revolutionary – Forest Whitaker and Riz Ahmed reflect on Saw Gerrera, the broken Rebel leader, and Bodhi Rook, the Imperial pilot who defects.
The Empire – Meet a dangerous new Imperial adversary...and cross paths once more with the most iconic villain of all time. 
Visions of Hope: The Look of "Rogue One" – The filmmakers describe the challenges and thrills of developing a bold new look for the movie that can fit within the world of the original trilogy.
The Princess & The Governor – See what it took to bring the vibrant young princess of Star Wars: A New Hope – as well as one of her most memorable foes­ – back to the screen.
Epilogue: The Story Continues – Filmmakers and cast celebrate Rogue One's premiere and look forward into the future, to the Star Wars stories yet to be told.
Rogue Connections – Uncover Easter eggs and film facts hidden throughout the movie that connect Rogue One to the Star Wars universe.
StarWars.com also provided details about retailer exclusives, letting you strategize about exactly where you want to buy your copy:
Target Exclusive: 5-disc set includes collectible packaging with interchangeable character covers and exclusive bonus content (Blu-ray 3D + two Blu-ray + DVD + DVD exclusive content – 2 additional bonus features + Digital HD + collectible packaging)
Best Buy Exclusive: 4-disc set with exclusive SteelBook packaging (Blu-ray 3D + two Blu-ray + DVD + Digital HD + SteelBook packaging)
Walmart Exclusive: 3-disc set with exclusive K-2SO packaging and two Galactic Connexions trading discs (two Blu-ray + DVD + Digital HD + K-2SO packaging + two Galactic Connexions trading discs)
And here is what the box art will look like in its many incarnations:
This news follows hot on the heels of the second Star Wars spin-off movie, the untitled young Han Solo adventure, officially starting production. It's due in theaters on May 25, 2018. The next core movie in the saga, Rian Johnson's Star Wars: The Last Jedi, is set for a December 15, 2017 release date. In other words, there's a chance we'll be reading The Last Jedi Blu-ray and DVD news right around the time Han Solo swoops into theaters.