LOL: Seth Meyers Enters The Awards Race With 'Oscar Bait' Parody Trailer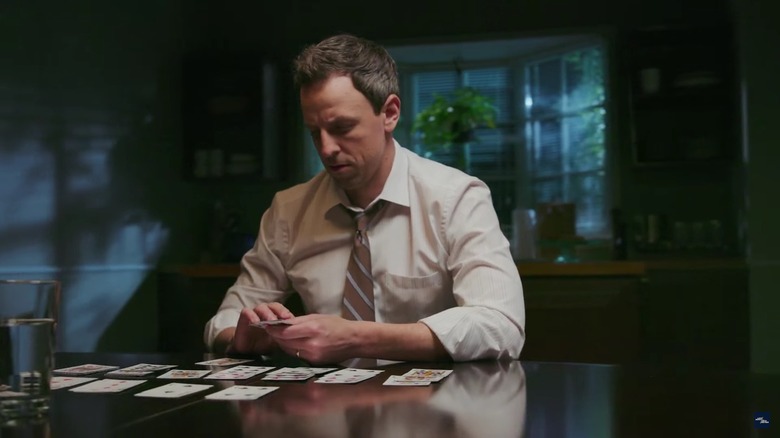 Seth Meyers may not be an Academy Awards contender this year, but he knows exactly what it takes to become one. The Late Night host has unveiled the (parody) trailer for his new (non-existent) movie, simply called Oscar Bait and billed as "the most blatant attempt to win an Oscar since The King's Speech." Honestly, it's refreshing to see a movie be so willing to just admit what it is.
As the title suggests, it's "a film that's not afraid to pander to your emotions." Mostly by hitting on all the stereotypical hallmarks of the Academy's favorite films, like racial tension, latent homosexuality, "a man staring at trains," a rare disease, a Carol reference, and lots of crying. So much crying. Like full-on, snot-nosed ugly-crying. Watch the Seth Meyers Oscar bait video below. 
C'mon, Academy voters. How are you going to resist a film that features long unbroken takes, "pretentiously artistic shots of a man's hand grazing wheat," "the grabbing of a bedsheet to indicate an orgasm," and "that weird Spike Lee thing where the character is gliding toward the camera and it's like, is he walking? Is he floating? What the hell is that thing?" Especially when it also boasts "vague dialogue that sounds sort of profound" and a parked car freakout scene?
Oscar Bait's only major misstep is that, despite the voiceover's claim to the contrary, it is not "shamelessly timed for awards season." It's missed the deadline for the 89th Academy Awards, and it's far too early to be a serious contender for the 90th Academy Awards. Still, if this looks like your cup of tea, keep an eye out for Oscar Bait when it opens soon at "that weird independent movie theater one town over that's always about to go out of business."